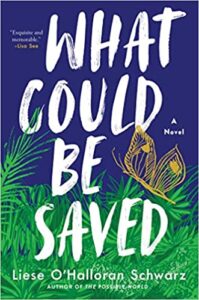 Second five star book of the year!
I've had What Could Be Saved by Liese O'Halloran Schwarz checked out of the library for a while. I tried it a month or two ago and it didn't grab me right away. But with the pressure of my book club meeting a few days from now, I picked it back up about a week ago and – wow! – it sucked me in. After a slow start, this book is impossible to put down. What Could Be Saved is a dual-timeline novel that takes place in 1972 Bangkok and 2019 Washington, DC. It's about an expat family living in Thailand whose 9 year-old son disappears after judo class one day. Phillip's disappearance fractures the Preston family, who returns to DC within a year. In 2019, one of the daughters, Laura, receives a call that her brother is alive and still living in Bangkok. She goes to Thailand to retrieve him, unsure if it is really Philip, and the story takes off from there.
Why I picked it up: I was intrigued by the story and recommended it as our book club pick for August.
What Could Be Saved is a beautifully structured book, with layers of secrecy, grief and anger unpeeled slowly as Schwarz gets to the truth behind this troubled family. She goes deep into the complications of sibling relationships, marriage, adultery, ambition and guilt – there is just so much here. Her precise details also evoke period Bangkok and DC so that I felt immersed and transported to both time periods. Meticulous plotting, rich character development and gorgeous prose, too… I was all in. Reading while walking the dog, cramming in audiobook moments in the car, ignoring baseball on TV. It's that kind of book.
I don't want to give away much more, but if you like family dramas, books set in exotic locations, historical fiction (well, it was the 70s… is that historical? eesh) and compelling mysteries, this is the book for you!
I alternated between print and audio for What Could Be Saved. I didn't love the audio. The narrator, Lisa Flanagan, was a little robotic. I listened on audio because I wanted to get through the book more quickly, not because of the audiobook itself. I much preferred the printed version.
What Could Be Saved was the 39th book of 2021.