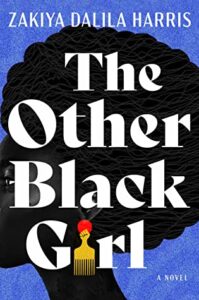 The Other Black Girl by Zakiya Dalila Harris, a novel about a young Black woman working at a prestigious publishing house in New York, was one of the hot books of spring 2021. I've had it in the house for a while, and for some reason the timing never felt right to pick it up. My book club chose it as one of our two October reads (don't ask, we got off-schedule), providing the action-forcing move I needed to pick it up. After reading The Other Black Girl, I understand the hype around it, but it needed a lot more editing and proved to be too confusing at times.
Why I Picked It Up: Loved the premise, bought into the hype.
Nella is a young assistant editor at Wagner, a fictional publishing house in New York. Nella is one of few Black employees at Wagner, and she's excited when she finds out that Wagner has hired another Black assistant editor named Hazel. At first, Hazel is friendly, and it looks like the two women will become friends and even confidantes, commiserating about the microaggressions they experience on a daily basis working with a team of White editors and managers. But before long, Nella starts to feel displaced by Hazel, who ingratiates herself to everyone around her, including Nella's boss. And then notes start appearing, anonymous messages to Nella telling her to "Leave Wagner Now". Nella becomes paranoid, insecure and increasingly anxious about her future at Wagner and, even more disturbing, starts questioning her commitment to bringing diverse authors and employees to Wagner and challenging racist stereotypes she finds in the books she's editing.
I don't want to spoil anything for people who haven't read The Other Black Girl, so I won't get into more about the plot. I thought this was an interesting setup and I was definitely intrigued to read more. Unfortunately, the book got to be confusing, as it jumped around a bit in time and among perspectives, and there were certain people and plot developments that just weren't explained very well. I had trouble following what was going on. It all came together at the end, but the road to get there was blurry. I think a lot of this could have been fixed with editing, because this was a fresh, creative story and its message about diversity of skin color and viewpoints in traditionally White workplaces is an important one . Sadly, I wanted to like this book more than I actually did.
I listened to The Other Black Girl on audio, which I do not recommend. Doing it on audio only enhanced my confusion. I found myself rereading in print whole sections I had already listened to on audio just so I could try to figure out what had happened. The narration was fine, but it didn't do anything to clarify the experience.
The Other Black Girl was the 48th book of 2021.