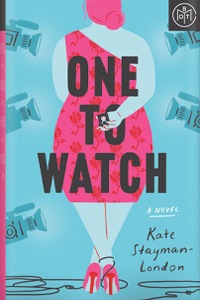 I am on vacation and trying to stay off the computer, so this review will be shorter than usual.
One To Watch by Kate Stayman-London is the story of Bea, a plus-size fashion blogger and influencer who goes on a Twitter rant about the lack of diverse body types and personalities on a Bachelor-esque reality show called Main Squeeze. The show, facing falling ratings, replaces its showrunner with a woman who wants to shake things up. She reaches out to Bea to ask her to be the next star of the show. Bea, nursing heartbreak after a hookup with her close friend and longtime crush, overcomes her fears and insecurities and agrees to do the show.
Why I picked it up: Reviews of One To Watch were really positive (it was a June BOTM pick from Ashley Spivey) and I wanted a beach read to kick off my vacation.
One To Watch was a fun read, especially if you're a fan (or a hate-watcher) of The Bachelor. Bea is a compelling heroine – smart and kind. The male contestants and some of the supporting characters are actually diverse (race, gender identity, etc.) and Bea brings a fresh openness and lack of predictability to the show. The writing is clever (though all the fashion references were lost on me) and I liked the integration of chat, Twitter and blog posts throughout.
There were a few lost opportunities here, though. One of the male contestants, Sam, is Black, but there is very little mention of that after the introduction, even as their relationship gets more serious. Stayman-London could have explored this more, especially now that we will finally have a Black Bachelor and there will undoubtedly be some biracial coupling on the show. Also, I wish Bea had been less insecure. If the message is that fat-shaming is bad and that people should feel comfortable and proud in their own skin, then Bea shouldn't have needed designer outfits to feel sexy and desirable.
That said, One To Watch was a quick and fun read, perfect to kick off my beach reading. I read it in about a day, which is really quick for me! I was eager to return to it and to see how it turned out. (Would Bea find love? Would the man who broke her heart get his comeuppance? What would happen on the reunion special?) One To Watch also filled the current Bachelor void.
One To Watch was Book #35 of 2020.