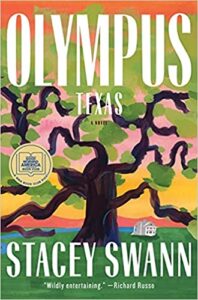 Olympus, Texas by Stacey Swann is loosely based on Greek mythology, but before your eyes glaze over and you move on from this review…. you don't need to know anything about Greek mythology to enjoy it. It's about the transgressions and consequences of the Briscoe family in a Texas town outside Houston. The patriarch, Peter, has never been faithful to his wife, June, and he has three illegitimate children to show for it. One of his sons, March, has just returned to town after two years of self-banishment after sleeping with his brother Hap's wife Vera. Meanwhile, Peter's twins, Artie and Arlo, are deal with their own issues of resentment and jealousy, and his wife June may finally be fed up with her husband's philandering. Olympus, Texas follows one week in the life of this family as the tensions among them grow to a boiling point.
Why I picked it up: I saw it at the library and was intrigued enough by what I had read about it to grab it and bump it up the TBR. Olympus, Texas is also now my November book club read.
Most of the characters in Olympus, Texas are tragic figures: arrogant, impulsive and self-destructive. They put their happiness in front of others', they are guided by lust with little thought to the damage they are sowing, and they are punished for their misdeeds. The other characters are martyrs, bearing the brunt of the bad actors. If you enjoy stories about people behaving badly, then this one is for you. And if you know a lot about Greek mythology, you'll recognize Zeus, Hera, Mars, Hephaestus, Venus, Apollo and Artemis, as Swann assigns them their trademark attributes but adds modern updates to match her current-day Texas setting.
Swann is a very good writer and I liked her use of detail and realistic dialogue. I definitely felt immersed in this story and the complex interplay of the characters in this claustrophobia-inducing family. There is nowhere to hide in Olympus – everyone knows everyone else's business and no one can escape their own tortured past. At times, the book can get weighted down by its own heaviness, as there is little buoyancy, only doom. It's definitely a Greek tragedy in that regard! It wasn't exactly a fun read, but I certainly appreciated it.
I listened to Olympus, Texas on audio. Karissa Vacker did an excellent job, especially with the range of voices. I don't always love men voicing women and women voicing men, but her Olympus men were very convincing. I switched to the audio about 1/3 of the way through the book and am definitely glad I did.
Olympus, Texas was book #52 of 2021.