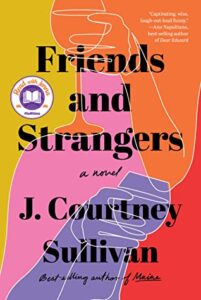 The Great November Book Slump is officially over. I finished a book, and am closing in on finishing two others. Phew. The one I finished is Friends And Strangers by J. Courtney Sullivan. It's about two women – a new mom named Elisabeth, and a college student named Sam who Elisabeth hires to babysit for her baby – and the struggles they each face around who they are and who they want to be. Elizabeth has moved to the suburbs from Brooklyn with her struggling entrepreneur husband, and she's resisting his desire for a second baby. Sam attends a women's college and is resisting her much older British boyfriend's desire to be engaged and married within the year. The two women become friends, bonding over their situations and providing a supportive ear to each other, but their friendship is ultimately tested when they each find fault in the other's choices.
Why I picked it up: I've been a big fan of Sullivan's books in the past (Maine, The Engagements) and have had this one in the house for a long time.
Sullivan really packs a lot into this book: marriage, friendship, parenthood, class, elitism, feminism… it's all here. Sullivan's the master of small details that paint a textured picture of characters and relationships, and Friends And Strangers is no exception. I respect how much ground Sullivan covered here. In the end, this fictional world felt very real to me, one I could picture and that I half-expected would continue on after I closed the last page.
But in the end, I wanted to like Friends And Strangers more than I actually did. It's really long, or at least it just felt that way, because not that much actually happens. If you're someone who needs a lot of plot, this may not be the book for you. I also had a hard time with the character of Sam. She was a college senior who simultaneously seemed both too old and also too young for her age. For all her maturity as a babysitter and a friend to Elisabeth, she was also naive and shortsighted. I also didn't always buy their friendship. It seemed implausible that Elisabeth wouldn't find a friend her own age, rather than waiting on a college student to come over and drink wine with her at night. There was just something off about the characters that kept me from fully buying into their relationships.
I appreciate what Sullivan was trying to do here, and this seems like a book that I would have loved. But it fell short for me, and ran long, which made it slow to get through. In the end, both of the characters were flawed, but really only one of them experienced any meaningful growth as a person. I was hoping for more of an epiphany, or at least a real turning point in the friendship, but I didn't come away with either.
I started Friends And Strangers on audio but switched the print. The audio was ok but not great – the narration didn't add much if anything to the story, and given how long the book is, listening to the whole thing was taking too long. So I switched to the print. I'd recommend staying with the print unless you've got a really long drive.
Friends and Strangers was the 51st book of 2021.