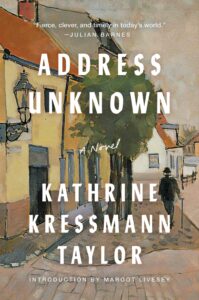 Address Unknown by Kathrine Kressmann Taylor is a short epistolary novel published in 1938. It is made up of correspondence between two art dealers who co-own a business: Max, a Jew living in San Francisco, and Martin, a German who returns home from California to live in Munich in 1932. When Martin returns to Germany, he is initially wary of an emerging nationalist leader named Adolf Hitler, but as the book goes on, he turns his back on Max, defending the anti-semitism of the Nazi party and justifying the killing of Jews. Address Unknown, published at a time when Americans were almost entirely unaware of the disturbing developments in Germany, was a bold warning cry about the dangers of fascism.
Why I picked it up: I can't remember where I learned about Address Unknown – perhaps from a recent blog post recommending short books that could be finished to meet year-end challenge goals? – but I put it on hold at the library. It came in, and it's my second to last book of 2021.
This short novel is remarkable because of its publication date. The vast pantheon of WWII fiction has perhaps dulled us to the depiction of Nazi rhetoric and how German nationalism tore friendships and families asunder. But when you consider that Address Unknown came out in 1938, it's pretty amazing. The author, a former advertising executive living on a farm in Oregon, learned enough about Nazi Germany to imagine this correspondence between two men who used to be as close as brothers. She moved to New York City in 1938, which is when the book came out under a name that did not convey her gender. It was widely published, and then reissued in the 1990s to commemorate the 50th anniversary of the liberation of the camps.
Address Unknown is a quick but powerful read about "what happens to real, living people swept up in a warped ideology" (author's comment, taken from the Afterword). As chilling as it is to imagine the book's relevance in 1938, it obviously has applications today too. It's also a compelling read for people who like the epistolary format. Things come to a head between the two men late in the book, with Max exacting revenge on Martin by the end, a sad conclusion to what was once a strong partnership and friendship.
Address Unknown was the 61st book of 2021.