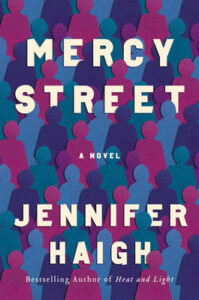 Jennifer Haigh is one of my all-time favorite authors. She's a must-read, automatic buy for me (though I haven't managed to finish Heat and Light, despite starting and liking it). Haigh is a fantastic storyteller, especially skilled at eliciting empathy for her characters, especially when they are deeply flawed. Her latest novel, Mercy Street, deserves the same praise. The book, which looks at abortion through the lens of four people connected to a women's clinic in Boston, explores shades of gray and complications underpinning an issue that is usually depicted in black and white.
Why I picked it up: It's by Jennifer Haigh.
Claudia is a fortysomething woman who grew up in a trailer in rural Maine and now works at the Mercy Street clinic counseling women on whatever brought them in, often an unplanned pregnancy. She has gotten used to passing the protesters who line up outside Mercy Street, though she is disgusted by the hypocrisy of pressuring these women not to end their pregnancies while otherwise ignoring them and not giving them the social and economic support they need. To cope with the stress of her job, Claudia visits her pot dealer, Timmy Flynn, a man on the fringe of society whose livelihood is threatened by the impending legalization of marijuana. Timmy also supplies pot to Anthony, a man who suffered mild brain damage in a workplace accident who now takes photos of women outside Mercy Street as they enter the clinic. Those photos are sent to Vincent, a deeply angry former truck driver who runs an anti-abortion website and plants disturbing pro-life signs along highways.
Haigh traces the societal forces that brought these four to their current places – difficult upbringings, painful divorces, loneliness, addiction – which leads to a nuanced treatment of the abortion debate. The bad guy here is bad, but he's dealing with his own demons. And Claudia isn't saintly, but is a closed-off woman whose mother saddled her with the care of a revolving group of foster children. Her feelings about motherhood are deeply ambivalent, which explains her commitment to the clinic, but she also expresses her private frustrations about many of her patients and their concerns. The point is – these are messy, complicated lives, and boiling them down into binary sides of a contentious issue overlooks its complexity.
Mercy Street is a heavy book. but not a difficult one. Haigh's accessible writing style, combined with her expert threading of disparate plotlines, makes for easy, if not always uplifting, reading. As Haigh gets more political in her topics (fracking, Catholic church abuse allegations), her books get a little more prickly. And that's OK with me.
I listened to Mercy Street on audio. Stacy Glemboski did a great job with all the characters, including the men with their gruff, New England accents. Some of the characters have sort of similar backgrounds, so I was sometimes confused as to who was being discussed, which might have been mitigated had I read it in print – just FYI.
Thank you to HarperAudio and HarperCollins for ARCs of Mercy Street.
Mercy Street was the 15th book of 2022 and satisfies the Book From An Author I Love category of the 2022 EDIWTB Reading Challenge.