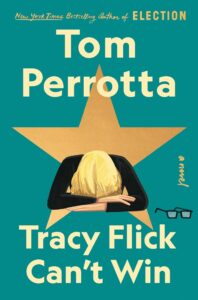 Tom Perrotta has been a must read for me over the years. Few people capture the quiet desperation of suburbia like Perrotta, creating memorably flawed characters seeking redemption after years of failure or mediocrity. The Leftovers was a rare foray into dystopia, but most of his books remain firmly in the realm of depressing yet often humorous realism. Tracy Flick Can't Win, the recently-released sequel to 1998's Election, revisits type-A overachiever Tracy Flick, who, when we left her at the end of the last century, had lost her campaign for high school student body president thanks to a trusted teacher's tampering with the votes. Now, in her 40s, Tracy is back in high school, this time serving as an assistant principal. When her boss, the longstanding principal, decides to retire, Tracy thinks her time has finally come, and his job will be hers. Or will it?
Why I picked it up: As I mentioned above. Perrotta is an auto-read for me. I was also excited to see how Perrotta would deal with our present day.
After high school, Tracy Flick went to college and law school, then worked on Capitol Hill with dreams of running for president. She was forced to return to New Jersey to take care of her sick mother, giving up her dreams of power and landing her back in high school as an administrator. Now she's hoping to redeem herself with the principal position, a reward she thinks she has in the bag. But then her school, strapped for cash, entertains the idea of establishing a Hall of Fame, proposed by a billionaire alum who made a fortune in Silicon Valley. The Hall of Fame nomination process draws a number of people together – a high school football hero, a long-serving secretary, the current student body president, the billionaire's wife – and before she knows it, Tracy's path to principal is once again in doubt.
Tracy Flick Can't Win is readable and compelling, drawing you along with humor and wry observations. Perrotta takes on #metoo, misogyny, infidelity, concussions, bullying – lots of 21st century issues – without making the book feel overstuffed. Oddly, Tracy Flick Can't Win isn't really that much about Tracy Flick. She's just one of many characters dealing with disappointment and regret. That wasn't necessarily bad, it just wasn't what I expected. Overall, I liked the book and read it pretty quickly, as I felt invested and wanted to know how things turned out. The end is a little over the top (though on brand for 2022) and it all tied up too neatly, but it was a decent read. Probably not my favorite Perrotta, but reading it felt like pleasantly familiar, like putting on a pair of comfortable, broken-in jeans. Hopefully that doesn't sound too tepid – I really did like the book!
I mostly listened to Tracy Flick Can't Win on audio. It's an ensemble performance, with Lucy Liu performing Tracy Flick. She was sort of an odd choice: very different from Reese Witherspoon and therefore sort of jarring. This casting made me feel a bit disconnected from the book's prequel. It was hard to accept the voice in my ears as the Tracy Flick I knew from the late 90s. The rest of the performers were good and overall the audio was easy to follow.
Tracy Flick Can't Lose was the 29th book of 2022 and satisfies the Book With A First Name In The Title category of the 2022 EDWITB Reading Challenge.