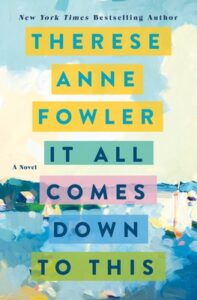 I am a sucker for a family drama, so when I saw that Therese Anne Fowler (author of A Good Neighborhood, reviewed here) had a a new one out, I immediately wanted to read it. It All Comes Down To This is about three sisters, Beck, Claire and Sophie, who are in their 30s and 40s and are each dealing with some sort of dissatisfaction in their lives. When their mother dies and instructs them to sell the Maine cabin that has been in their family for decades, they each have to reexamine what they want and how to get themselves to a better place.
Why I picked it up: Family drama + vacation location + known author = yes
Beck, the oldest Geller sister, is a writer in a stale marriage with stable Paul. Claire, the middle daughter, is a divorced cardiologist carrying a torch for her sister's husband. And Sophie, the youngest, has tricked her sisters into believing that she's a successful influencer, when she really relies on housesitting gigs for rich friends and owes thousands on her credit cards. Their mother's death brings the sisters together, surfacing some longstanding tensions and ultimately forcing them to reveal their secrets.
Overall, I liked It All Comes Down To This. I felt invested in the three sisters and wanted to find out how their lives would turn out. Fowler's writing is thoughtful and precise, and she does an especially good job with realistic dialogue. I would have liked a little more drama between the sisters – I don't think Fowler differentiated their personalities enough or established enough historic tension or conflict to make for a strong story about family dynamics. Instead, I enjoyed the individual personal narratives and preferred them to the times when the sisters were all together.
I mean this as a compliment: It All Comes Down To This was a pleasant read. Nothing earth-shattering, but I was always happy to come back to it and I cared about how it turned out. It's not as meaty as A Good Neighborhood, so if you've read that and want to check this out, be prepared.
I listened to It All Comes Down To This on audio. Narration by Barrie Kreinik was great. She does a particularly nice job with men, which isn't always easy. I recommend the audio.
It All Comes Down To This was the 33nd book of 2022.