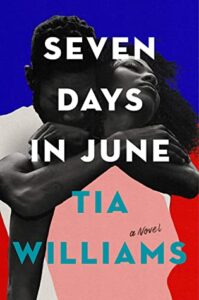 Warning: Unpopular opinion ahead.
When I recommended Seven Days In June by Tia Williams to my book club, I had heard great things about this romance between two Black authors who had been involved as teenagers and then reunited in their 30s. I am not sure exactly what I was expecting, but it wasn't what I got, and in the end I was pretty disappointed by Seven Days In June. This is a very popular book, though, so please take this review with a very big grain of salt!
Why I picked it up: I had heard nothing but great things about it from people who appreciated its steaminess and the way it handled the main character's hidden but debilitating illness.
Eva is a single mother and the author of a successful series of vampire romance books. When Seven Days In June opens, she is preparing to serve on a panel of Black authors. She is shocked when Shane, a famous, reclusive author of acclaimed literary fiction, shows up and joins the panel. It turns out that Shane and Eva met at the end of high school and spent a torrid week together that deeply affected both of them, to the extent that each secretly incorporated the other into their books and followed each other careers from a distance. Seven Days In June follows a week in present-day June, a mirror of the seven days in high school June, as Eva and Shawn get to know each other again and try to resolve their issues with how their relationship ended so many years ago.
This book just didn't do it for me. I didn't really buy the intense connection between Eva and Shane in their teen years, when they were young, immature, and fueled by drugs. The writing felt like YA, and the relationships in the book seemed forced and unnatural. I was expecting something deeper. Eva's medical condition seemed to improve dramatically once Shane was back in her life, while his addiction struggles were dispensed with quickly. By the end, I was impatient to be finished and did not feel connected to any of the characters. Perhaps it was all the hype, but Seven Days In June did not live up to my expectations.
Like I said, I am really in the minority. Most people I know really liked this book.
Seven Days In June was the 34th book of 2022.