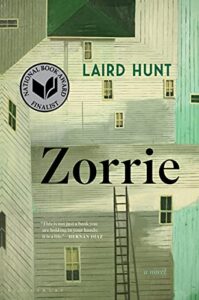 Zorrie, by Laird Hunt, is a quiet, old-fashioned (yet recent) novel about a woman's life in Indiana. Zorrie is young when her parents die, and she is sent to live with an aunt who is cold and unaffectionate. Orphaned again when that aunt dies during the Depression, Zorrie leaves Indiana at age 21 with nothing to her name. After a brief adventure in Illinois, she returns to Indiana, where she lives for the rest of her life. Those years have highs and lows, but Zorrie remains strong, solid and steady, despite her inner sorrows and disappointments. While Zorrie's world may be a small one, Zorrie is a book about many universal aspects of life: love and friendship, grief and loss, sadness and acceptance.
Why I picked it up: I've seen Zorrie around since it came out in 2021, but I didn't focus on it until recently, when someone recommended it. (I don't remember who!) It sounded good, so I added it to my hold list at the library.
Laird Hunt, who apparently writes a lot of literary noir and speculative fiction, uses an old-fashioned style of writing in Zorrie. (If you had told me that it was written in the 1930s, I would have believed you.) Like his protagonist, his style is formal, restrained, and quiet, which reinforces the timeless quality of the book. The pacing of this short novel is perfect, with Zorrie's life playing out like a drumbeat amidst the joys and struggles. Despite the smallness of Zorrie's world, there are suspense and secrecy, passions that go unspoken and friendships cherished.
I don't have much more to say about Zorrie. I really enjoyed this quiet book and suspect it will stay with me for a while.
Zorrie was the 7th book of 2023.