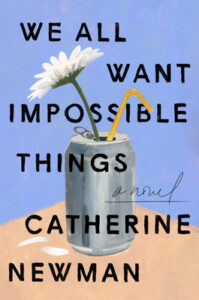 My first book of the new year was We All Want Impossible Things by Catherine Newman, a book I've been wanting to read ever since I heard about it last summer. The subject matter is heavy: Ash and Edi, best friends since childhood, face the end of Edi's life together as she moves into hospice care. Although Edi has a husband and young son in Brooklyn, there are no spaces in hospice in New York, so she moves to Western Massachusetts where Ash lives, so that Ash can be with her at the end. We All Want Impossible Things is unflinching, raw, and emotional, yet also funny and life-affirming.
Why I picked it up: I've had my eye on this one for a while, and reviews were very positive.
The reviews I've read of this book say that its depiction of hospice incredibly accurate – the rollercoaster of emotions, the moments of drama and intensity interspersed with the tedious and mundane, the dark humor of it all. Newman captures it beautifully here. Ash is flawed, for sure, but her devotion to Edi is steadfast. It is refreshing to read about a female friendship based on respect and honesty, one that doesn't involve resentment or secrets. And while the ending was inevitable, I still found myself holding my breath as I reached the final chapters.
I highly recommend this one. It's a lesson on how to give the gift of a good death to someone you love.
We All Want Impossible Things was the 1st book of 2023.