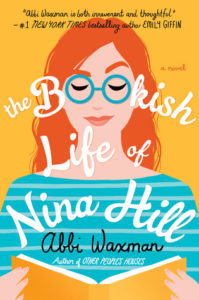 The Bookish Life Of Nina Hill is a cute book by Abbi Waxman about an introvert who works in a bookstore and, outside of scheduled book clubs and trivia nights, spends most of herher time in her L.A. apartment where she lives with her cat. When she learns suddenly that her father, whom she never knew, died and that she has a large extended family, her life is sent into a tailspin. And then when a cute boy comes on the scene, she has to decide whether she can make room in her regimented life for some spontaneity – and yet another person.
If you like light rom-coms about smart, interesting women, then you might like The Bookish Life of Nina Hill. The dialogue is snappy and clever, and there are lots of good book references throughout. The premise of inheriting a large family in one's late twenties after living a life of solitude as the only child of a single, itinerant mother is also intriguing.
In the end, though, The Bookish Life Of Nina Hill was too light for me. I like my books darker, with more dramatic tension and a bumpier road to happiness (if it's ever even reached). Nina's love interest is handsome and earnest, and other than being frustrated at her keeping her distance from him, he says and does nothing objectionable. Nina didn't even seem introverted or awkward – she had a lot of friends and a fun job. Her life was kind of ideal! There wasn't much conflict or growth or even a glimpse of real hardship beyond a lonely childhood.
The Bookish Life Of Nina Hill has been enthusiastically received this summer, with lots of 4 and 5 star reviews on Goodreads, where readers particularly like the bookworm element of the story. For me, it was too light on drama and substance to make much of a mark.
Thank you to Berkley and Penguin Random House for inviting me to review this book as part of a larger blog tour.