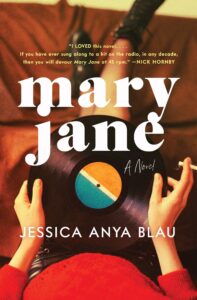 Mary Jane by Jessica Anya Blau is a coming of age novel set in the 70s about a 14 year-old girl named Mary Jane who lives in Baltimore with her strait-laced, conservative parents. One summer, she is hired by a neighbor family to take care of their 5 year-old daughter, Izzy. The Cohns – a psychiatrist and his wife – are much more liberal than Mary Jane's parents, with a messy house and take-out dinners every night. Soon after Mary Jane begins working, Dr. Cohn starts treating a rock star for drug addiction, and the musician and his movie star wife move into the Cohns' house for intensive therapy. As a result, Mary Jane is exposed to very different types of people than those she is accustomed to, and she finds herself changing in all sorts of ways over the course of her time with the Cohns.
Why I picked it up: I've had this book on my shelf for a long time. The audio was available on Libby and I needed something light after finishing the Spare audiobook.
This one was just OK for me. Mary Jane feels particularly outdated and flat in 2023. During her summer of enlightenment. Mary Jane is exposed to a whole host of shocking things: heroin addiction, open marriage, divorce, antisemitism, racism , sex, nudity, etc. It's definitely an eye-opening time for a naive, responsible teenager. And there is a sweetness to Mary Jane's naivete – certainly today's 14 year-olds are more worldly and have seen a lot more than Mary Jane. But honestly, that's all that happens in this book. Mary Jane is exposed to a lot of things, she realizes that her parents are narrow-minded and needlessly strict, she likes who she is when she's at the Cohns, and that's pretty much it. Very little plot, very little tension. It's a light and easy read, and I appreciated the 70s setting and the ways in which new cultural mores came into conflict with traditional America.
Two other quibbles: I found the way the adults interacted with Mary Jane to be unrealistic – they paid her way too much attention, treated her like a peer, and were generally completely clueless about how to act around a teenage girl. Also, Izzy was precocious, but overly so for a girl who wasn't even in kindergarten yet. Too much Izzy.
I did Mary Jane on audio. The narrator, Caitlin Kinnumen, sounded perky and innocent, like the character was meant to be, but she might have contributed to the lack of substance I found in the book.
Mary Jane was the 9th book of 2023 and satisfies the Book On My Bookshelf category of the 2023 EDIWTB Reading Challenge.