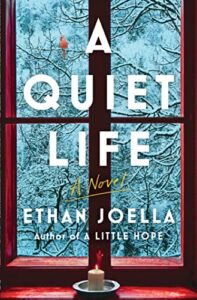 A Quiet Life is Ethan Joella's second novel, and it follows the same playbook as his first, A Little Hope: the story of a disconnected group of people in deep pain due to some sort of loss, trying to navigate their way toward acceptance, if not happiness. The book follows their journey through grief as their lives cross in unexpected ways.
Why I picked it up: I liked A Little Hope, Joella's first novel, quite a bit, and was excited to see that he had a new one out.
Joella's writing is quiet, not flashy, and full of empathy, with a freshness that keeps it from being maudlin or treacly. Chuck, a man in his 70s, is grieving the loss of his wife Cat, who recently died of cancer. Ella's daughter Riley was kidnapped by her estranged husband and has been missing for over four months. And Katelyn's father was murdered when he stopped at the wrong gas station at the wrong time. They are each stuck, mired in grief and sadness, unable to move on or resume the lives they led before their losses. A Quiet Life is full of little details that give the reader glimpses into these people's intimate, private lives and the impact these losses have had. Little by little, they make some movement forward, mostly through connecting with other people who can share their pain.
The only thing that kept A Quiet Life from being a standout read was the almost-too-neat ending, where not only do all three lives intersect, but things resolve rather quickly for each of them. Of course, I wished that for the characters; I just wish that it had felt a little more organic. Also, a small but important thing: there is one character who CLEARLY wanted to adopt a dog, but didn't. I wanted to shake him! That alone would have solved so much.
I listened to A Quiet Life on audio. There were different voices for each of the main characters, and they did a good job. I always knew whose section I was in, and I was definitely engaged with and engrossed by the book. Credit to narrators Stacey Glemboski, Melissa Redmond and Byron Wagner.
A Quiet Life was the 5th book of 2023.