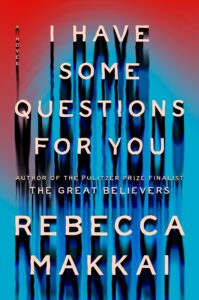 I was really excited when I heard that Rebecca Makkai had a new book coming out this winter. I *loved* her last one, The Great Believers, which I read in 2019, and when I learned that I Have Some Questions For You would be a campus novel, I was especially looking forward to it. I adored her writing the first time around, particularly appreciating how she immersed her readers in a pretty specific and remote time – 1980s Chicago – so successfully. Would this latest novel be as compelling?
Why I picked it up: Makkai is pretty much an auto-buy for me after Believers.
I Have Some Questions For You opens in 2018 in New Hampshire, where author/podcaster Bodie Kane has returned to her boarding school to teach a two week course in podcasting. One of her students chooses to resurrect a crime from Bodie's days at the school – the murder of her roommate, Thalia Keith. At the time of Thalia's death, a Black athletic trainer named Omar was charged and convicted of the crime, for which he is still serving time in prison. Yet there were problems with the investigation and Omar's representation, and over the years, doubt has been raised as to Omar's guilt. When one of Bodie's students decides to take on the murder as the topic of her podcast, Bodie starts questioning much of what happened during her years at the boarding school, ultimately testing new theories about who committed the crime and recasting her feelings about her classmates and teachers through the lens of #MeToo.
I Have Some Questions For You is in many ways a mystery/crime story – admittedly not my favorite genre – and I don't want to spoil anything here about the unspooling of the mystery. But Makkai stuffs a lot more into this novel: racism, bullying, sexual assault, privilege, grief, coming of age, and a whole lot of anger (mostly against men, who come off pretty terribly in the book). Like in Believers, in this novel Makkai creates an immersive world for her characters which she revisits frequently, jumping back and forth as the past slowly becomes clearer with the benefit of hindsight. Yet I enjoyed this one less than Believers, in part because I don't love the mental exercise of solving crimes, but also because it all just felt so relentless. In addition to Thalia's murder, there is a subplot involving allegations of an inappropriate relationship leveled at Bodie's estranged husband; Bodie's own work investigating the abuse of female actresses in Hollywood; and interstitial chapters that are simply lists of well-known fact patterns involving violence against women. It was just a little too much. The Thalia story was interesting and powerful enough; I wish that Makkai had pared the book down and removed some of the adjacent storylines that weakened its overall impact.
I listened to I Have Some Questions For You on audio, narrated by Julia Whelan. I sometimes have trouble with Whelan's delivery, which is often too angry and one-note for me. Here, however, Whelan was the perfect voice for Bodie Kane, who is, well, an angry person! I enjoyed doing this on audio – Whelan made a lot of long dog walks go by really quickly.
So overall, I was a little disappointed by I Have Some Questions For You, but she had some incredibly huge shoes to fill.
I Have Some Questions For You was the 13th book of 2023.