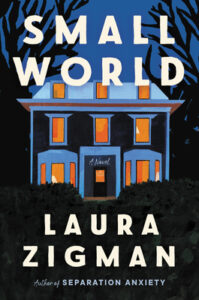 Small World by Laura Zigman is about two sisters, Joyce and Lydia, who lived through a traumatic childhood. Their sister, Eleanor, was born severely disabled and eventually moved into an institution before she died at age 12. Growing up, Joyce and Lydia were mostly ignored by their parents, and the family essentially fell apart after Eleanor's death. In the present, Joyce and Lydia, both divorced and approaching 50, decide to live together when Lydia returns to Boston after decades in California and moves in with her sister. Small World is about how these sisters try to forge a deeper relationship after years of physical and emotional distance.
Why I picked it up: I have been a fan of Zigman's offbeat, edgy books for many years.
Small World is not a gauzy, feel-good book about sisterhood. Both Joyce and Lydia are prickly, antisocial women who have trouble relating to others. For example, when new neighbors move in upstairs, upsetting Joyce's quiet existence, she is deeply disturbed and obsessed with thwarting their noisy activities. Lydia, too, is extremely awkward and makes Joyce's friends uncomfortable. And they are barely any better when they are alone together; they push each other's buttons and avoid each other for long stretches. But as Zigman unpeels the layers of their trauma, you can see that they never stood a chance. With no emotional support from their parents, they were barely hanging on, trying to protect each other and dealing with guilt over their sister's death and the few demands they placed on their parents.
Over the course of the book, Joyce and Lydia finally begin to connect and talk about their lives and memories of growing up. Zigman's writing is darkly funny, sharp and observant, so that even when Small World is at its most raw and painful, it's still pretty entertaining. I'd recommend it for fans of Rufi Thorpe and Eleanor Oliphant Is Completely Fine. Bonus points for the funny poems created out of posts on the fictional NextDoor-esque neighborhood social platform that gives book its title.
Small World was the 18th book of 2023.