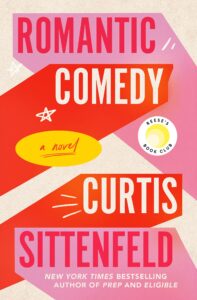 I have been a bit of a curmudgeon on EDIWTB lately, doling out 3-star reviews and generally complaining about the last few books I've read. Well, the negativity stops now! I recently finished Romantic Comedy by Curtis Sittenfeld (one one of my auto-buy authors), a contemporary romance about a writer on an SNL-type show who develops a flirtation with the host/musical guest on the show one week. A few years later, during the pandemic, they reconnect and try explore whether that week was actually something real.
Why I picked it up: Sittenfeld + SNL + pandemic + romance = yes
Sally Milz writes for The Night Owls, a weekly sketch comedy show that airs on Saturday nights. The first half of Romantic Comedy takes the reader through the frenetic chronology of the week, from the first sketch proposals to the after after-party. Sally and the week's rock star host, Noah Brewster, connect early over a sketch proposal, and over the course of the week, they orbit each other in rehearsals, leaving Sally to wonder whether she's imagining the growing tension between them. But she's insecure around Noah – a gorgeous man who dates models – and after a few drinks early Sunday morning, makes an insulting comment about him that ends the week on a sour note. Fast forward a few years, when Sally and Noah are both living through pandemic lockdown, and the two connect over email to explore what happened over the course of the Night Owls week.
I really loved this book! It is classic Sittenfeld – smart, funny, relatable, honest, suspenseful, and ultimately hopeful. Sally and Noah have great chemistry, and it's fun to watch their relationship develop. I loved the emails they exchanged, as well as the totally realistic depiction of their meetup. Sally isn't perfect – she's insecure and too guarded around Noah – but you have to root for these two to work out. I read this book in about 24 hours because I just couldn't put it down. Five stars from me – definitely pick it up!
Romantic Comedy was the 17th book of 2023 and satisfies the Book From An Author I Love category of the 2023 EDIWTB Reading Challenge.