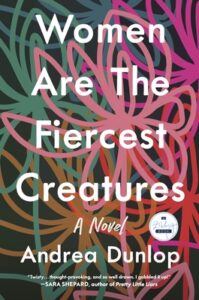 Women Are The Fiercest Creatures by Andrea Dunlop is about three women's relationship to an egotistical tech CEO named Jake, whose social media community, Strangers, is about to have an IPO. Anna, his ex-wife, supported him through the development and launch of the app; Jessica, his current wife, is pregnant with his baby; and Samanta is an entrepreneur who worked with Jake on the site during its development. Anna and Sam have unfinished business with Jake and Strangers, while Jessica is trying to stay close to her preoccupied husband.
Why I picked it up: I like books about tech, social media, and founder controversy.
I expected Women Are Fiercest Creatures to be heavy on the development of the app, coupled with scorned-women bonding and the scheming overthrow of a toxic CEO. Instead, it was lighter and more of a thriller, short on details about the platform and heavy on the history of the women's relationships with Jake. It was a quick read, but ultimately unsatisfying, Some parts were confusing – the chronology of who was involved with Jake and when – and I was frustrated that these women were continually taken in by Jake's charms, even after seeing his worst. They are supposed to be fierce – why were they all so susceptible to him? Jake himself was inconsistently drawn, sometimes thoughtful and actually human, and other times very calculating and cold. Maybe some chapters from his perspective would have helped.
Overall, Women Are The Fiercest Creatures felt undercooked. It could have been more fiery, strident and universal, but ended up relying on a thriller plot instead of deeper conclusions about men and women in tech. Bonus points for the cool Seattle setting and the (sadly, skeletal) social media platform at the heart of the book, which actually sounded pretty cool.
Women Are The Fiercest Creatures was the 16th book of 2023.