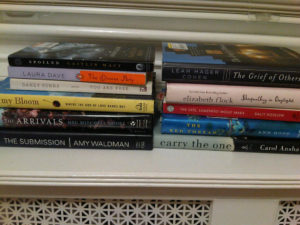 I was in NY for business yesterday, and was in the neighborhood of The Strand bookstore. I decided to stop in for a quick visit, armed with my Goodreads To-Read list. Even though I know this probably isn't true, I feel like I won't be in NY for months and months after the baby is born, and that I need to stock up on books now. And because I have no books at home on the TBR list… (ha!). These are all contemporary fiction.
Here is a picture of the haul – all half-price or better. And here is what I bought:
Spoiled by Caitlin Macy – one of a few short story collections I bought, even though I rarely read short stories
The Divorce Party by Laura Dave
The Arrivals by Meg Mitchell Moore – looks light but good
You Are Free by Danzy Senna – this has gotten mixed reviews but looked good to me; more short stories
The Submission by Amy Waldman – I've wanted to read this one for a while
The Grief of Others by Leah Hager Cohen – I keep reading good things about this one. Another in the Parent's Worst Nightmare camp.
Sleepwalking in Daylight by Elizabeth Flock – this one also looks pretty light
The Late Lamented Molly Marx by Sally Koslow – I usually have a rule that I won't buy a book with a picture of shoes on the cover, but I made an exception for this one
The Red Thread by Ann Hood – I also avoid books with knitting/yarn on the cover but I liked the subject of this one (Chinese adoption)
Carry the One by Carol Anshaw – this book came out 2 days ago and looks good
Where the God of Love Hangs Out by Amy Bloom – MORE short stories (I know!)
If you've read any of these titles, let me know what you thought of them!