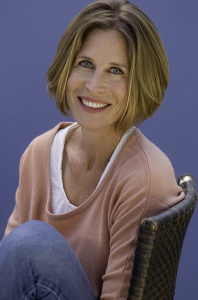 It's still June is Audiobook Month (JIAM) here at EDIWTB!
I was lucky to meet three audiobook narrators at BEA last month who were willing to spend the time to answer some of my questions about narration. I posted the first interview, with Robert Fass, last week. Today's interview is with Karen White. Karen White is a classically trained actress who has been recording audio books since 1999 and has well over 100 books to her credit and is a proud member of SAG-AFTRA.  Honored to be included in Audiofile's Best Voices 2010 and 2011, she's also an Audie Finalist and Best Audiobook of the Year winner for 2009, 2010 and 2011.
Q.  How did you get into audiobook narration?

A: Although I am a trained actress, I actually started as an editor in audiobooks.  Back in 1999 here in Los Angeles, most audiobook production involved celebrities and abridged books.  When calling around trying to get narrating work, I was offered a job editing audiobook recording sessions on ProTools (which I quickly taught myself to use).  My supervisor there was hired about six months later to open a Los Angeles recording studio for Books-on-Tape, and he hired me as his assistant.  At that studio I started narrating as well as casting, directing and editing.  It was an amazing immersion in the craft!  When I had my first child, I chose to work less and only as a director and narrator.  (I think mommy-brain and editing-brain could not co-exist in my head.)  About five years ago, I built a home studio and now I work almost full-time for publishers all over the country.

Q. How do you prepare for a new narration role? Do you read the whole book through to get a sense of the characters and story?

Only a couple of times have I been unable (due to last minute scheduling) to read the whole book before beginning recording.  And I really hated it.  No matter the genre, I find that it's really important to read the whole thing through to "get" the narrative voice: the tone, mood, style, etc.  And inevitably, if you start a fiction title before reading the whole thing, you'll find out on p. 298 that Uncle George spent time in New Zealand and picked up a bit of an accent.  And it can be a lot of work to replace all of Uncle George's dialogue with the proper accent!

When I read the book, I am paying attention to the above narrative stylistic elements, and I'm notating all specifics on the characters (if it's fiction) and any word pronunciations I'm unsure of.  I then organize all this info so I have it at my fingertips when I start recording.  I like to get the right brain work done ahead of time so I can cruise in the left brain and work instinctively as I record.

Q. What is your favorite book that you've recorded? Any books on your dream list?

A: Asking about my favorite book is like asking me which of my kids is my favorite!  But I have to say that one of my all time favorites was Sue Monk Kidd's The Secret Life of Bees.  (I did the Library version, but not the retail version — not sure why or how that happened).  I'm from North Carolina originally, so I loved being able to work in my home accent.  And I connected personally with the material on so many levels – not so much literally but emotionally.

I think my dream is to record something by Edith Wharton.  I actually lived in her summer home one spring and summer while acting at Shakespeare & Company in Lenox, MA (it is definitely haunted) and I read most of her books then.  I chose a Louisa May Alcott story for our narrator driven fund-raiser Going Public…in Shorts because she was on my mind.  But maybe next year I'll do a Wharton!

Q.  Where do you do your recording?

I have a "Whisper Room" which is a not-quite-but-pretty-close-soundproof modular booth.  (Meaning if my kids are screaming on the trampoline right outside, I can still hear them.  And I can hear the neighbor's gardener's leaf blowers.)  I think I disappoint my booth a bit.  I'm its 3rd owner.  The 1st owner did movie trailers and the 2nd did sports promos. When I bought it, I was told that a million dollars a year of voiceover work had been recorded inside it.  Unfortunately, very few audiobook narrators are making that kind of money!  But I spend a LOT of hours in my little booth and hopefully she's at least appreciative of the quality of writing I'm working with, if not the quantity of dollars coming in J

Q. Do you ever find that your voice changes from session to session? (Sometimes I think I can tell when one session ends and another starts because the narrator's voice gets lower, for example.)

A: Because I've also worked as a director and I've studied to teach vocal production, I am very aware of this possibility, and I try to avoid it.  It's a good practice to take breaks at the end of a chapter, especially at the end of the day.  It's also important not to overwork the voice, either by working too long of a day, or by straining or abusing it.  But it can be a challenge to honor an author's specific descriptions of a gravelly voice or a smoker's rasp and protect your voice at the same time.

Q. How much interaction, if any, do you have with the author while you're recording?

That all depends on the author and the publisher. Unless I happen to know an author prior to being cast (this happened when I read a book for pleasure and contacted author Anna Jean Mayhew to tell her how much I loved it, and later she requested me to narrate when the audio rights were sold).  Sometimes authors just don't have time to interact, but for the most part I've found authors to be very helpful in terms of pronunciation help if the information can't be found easily online. (Author Jilliane Hoffman was very appreciative when I checked in with her on character name pronunciation as she names all her characters after her friends!)  I also tend to promote my books on social media; most authors are appreciative of that.  I had a great time reading with Meg Waite Clayton when she was in town for a bookstore event and I'd love to do more of those.

Q. What do you like to read in your spare time?

Although I always seem to have a half-read parenting book on my bedside table, women's fiction is definitely my pleasure reading genre of choice.  In fact, I've had a little rule since I was in my late twenties that I only purchase books and music written by women, for solidarity.  (If I really want to read a book by a guy, I will get it from the library or borrow it.)  My book club recently read Me Before You by Jo Jo Moyes, which I noticed on your sidebar.  I loved that it made me cry very snottily for the last 20 pages, which would have been tricky if I'd been narrating it.

Q. Anything else you would like you like my readers to know about audiobooks?

I'm just happy people are buying them!  Changes in technology have meant that a much larger percentage of published books are recorded in audio than were even five years ago.  I haven't seen any numbers which would prove my theory, but I believe that the percentages of female writers having their work published in audio has increased as well.  Selfishly, that's good because it's more work for me, but personally, I prefer the woman's perspective.
Thank you, Karen, for another wonderful audiobook interview! I appreciate your taking the time to answer my questions.
Karen has very generously offered to give away an Audible credit for one of her audiobooks. To win one of the books that she has narrated on audio, leave me a comment here about where you listen to audiobooks. I will select a name at random on Friday, June 28.