Vacation Read #1 was The Silent Wife by A.S.A Harrison. If you haven't heard of this book yet, it is often described at "this summer's Gone Girl". How could I *not* take it on vacation?

The Silent Wife has a lot in common with Gone Girl, yes. Dysfunctional marriage, manipulative/borderline sociopathic wife, clueless/selfish husband, inevitably messy ending, alternating narrators, addictive story? Check, check, check, check, check and check. And yes, the success of Gone Girl may have paved the way for The Silent Wife. (See The New York Times' take on that here.) But I found the two books to be pretty different. While Gone Girl was sharply funny in addition to being suspenseful and dark, thanks to Gillian Flynn's commentary about marriage and relationships, The Silent Wife is more serious and even darker.
Jodi, the title character, has been married to her husband Todd for a decade or so. They live in Chicago in a beautiful condo with their golden retriever, have no kids, and on the very surface have a good marriage. She takes care of him while working part time as a therapist, while he supports them through his job renovating apartment buildings. The issue? Todd is a serial cheater. He loves Jodi, but can't help his roving eye and his selfishness. He has also gotten himself into a tough situation: an affair with his best friend's daughter, a college student in her 20s who is increasingly demanding and needy.
Jodi deals with her husband's infidelity by pretending it doesn't exist. She's not stupid; she's just capable of extreme levels of denial. Her desire to hold on to her husband and her life as she knows it trumps her ego and anger – every time – until Todd is finally forced to come clean and admit that he has been unfaithful and plans to leave her. While she is furious at him, her survival instincts go into overdrive as the two careen toward a resolution of an untenable situation.
The Silent Wife is a character study of two deeply flawed people, compared to the plot-twisty joyride of Gone Girl. It's a quieter and more emotionally intense book, more psychologically disturbing and not particularly funny. But it's a good read and one that I enjoyed a lot. Lots of suspense and momentum. Also, it didn't hurt that this was my view while reading it: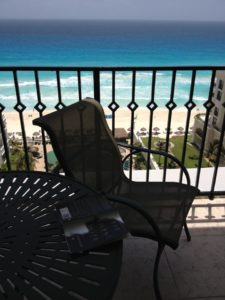 2 more vacation reviews to come! And I am 150 pages into The Interestings, finally.