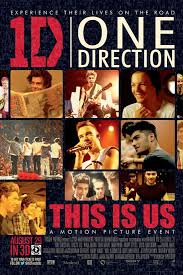 One of the perks of having this blog is that occasionally I get offered free tickets to events in the DC area. It doesn't happen often, and I usually don't have time to take advantage of them, but when I got an email offering me passes to a blogger preview screening of the new One Direction movie THIS IS US, I jumped at the chance. My two 9 year-old daughters are Directioners – we saw them live in concert this summer – and I knew they'd be excited to see the movie.
But what I didn't expect was how much *I* would like the movie.
If you haven't heard of One Direction (is that possible?), they are a band made up of five guys from England who each tried out separately for the U.K. version of The X Factor in 2010. Simon Cowell plucked each boy from the ranks of rejected contestants, and decided that they should form a band. The band went on to place third in the reality competition that season, but its phenomenal success came afterwards, when scores of fans of One Direction took to social media and pushed the group into stardom.
The documentary THIS IS US is directed by filmmaker Morgan Spurlock (of SUPERSIZE ME fame) and covers the band's history and behind-the-scenes footage of their most recent world tour. I thought it was an excellent movie. Here's why:
The five guys in the band are totally likeable.
The band's camaraderie is a big theme – these guys like each other a lot, and there don't seem to be any ego issues among them.
The movie features a lot of interviews with Directioners, who say that the band "makes them feel good about themselves" and "makes them smile" and "makes them think that the world is good". (AWWW!) A lot of their songs are about having (often unrequited) crushes on girls, girls being beautiful just the way they are, and enjoying life – all healthy messaging for pre-teens.
The bandmates genuinely appreciate their fans, saying over and over that they give all of the credit for their success to the millions of fans who have supported them. They have fun with their fans and surprise them andinteract with them on social media, and never look down on them or resent the chaos that ensues wherever they go.
The guys in the band also seem genuinely appreciative of and thankful for the amazing opportunities they've been given, from touring the world and meeting celebrities to playing in famed rock venues and being able to do things like buy houses for their families. Each of the five guys comes from modest, working-class roots, and their lives have been completely transformed by the success of the band. The movie features footage of a few of them going back to their old workplaces – a Toys 'R Us, a bakery – and reflecting on the turns their lives have taken.
Other touching moments: the boys' parents talking about how much they miss their sons, and how proud they are of their success.
The 3-D aspect of the movie was fun, especially with the concert footage.
In all, it was a totally enjoyable night. My daughters loved the movie, which is rated PG for mild language. It's sweet without being cloying, and funny without being offensive. I walked out with a big smile on my face and was really glad I had the chance to see it.
If you have a Directioner in your life who wants to see THIS IS US (or if you're thinking of seeing it yourself), definitely go. You won't regret it at all. And if you (ahem) bring a book with you, thinking you'll want to read it while your kids are watching the movie, I promise you won't touch it.
Here is a photo of my daughters before the movie started with their 3D glasses on: