You know what I DON'T need? More books!
But I recently found myself with the opportunity to go to The Strand, which I couldn't pass up. Thanks to my Goodreads to-read list, I ended up with these books: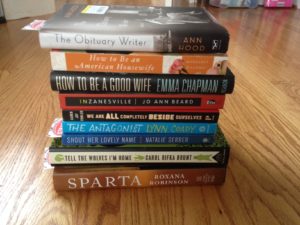 Here is the list:
The Obituary Writer by Ann Hood (I have wanted this since it came out; have heard that it is better than The Red Thread)
How to Be An American Housewife by Margaret Dilloway
How to Be A Good Wife by Emma Chapman (see a theme here?)
In Zanesville by Jo Ann Beard (coming of age in the 70s)
We Are All Completely Beside Ourselves by Karen Joy Fowler (highly recommended by Ann Patchett)
The Antagonist by Lynn Coady
Shout Her Lovely Name by Natalie Serber (short stories)
Tell The Wolves I'm Home by Carol Rifka Brunt (have wanted this since it came out too)
Sparta by Roxana Robinson (read the Q&A with Robinson about Sparta here)
If you've read any of these, please weigh in! What am I in store for?