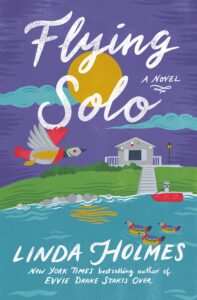 In summer 2019, I read a debut novel that I loved: Evvie Drake Starts Over by Linda Holmes. It is the story of the relationship between two flawed and damaged people who manage to find a way to be together. I loved that it was edgy, a little dark, and totally realistic. I really enjoyed reading it and was sad when it ended. So I was very excited to pick up Holmes' second novel, Flying Solo, which came out yesterday. Like Evvie, it is set in New England and is in large part about a relationship between two 40 year-olds who are trying to navigate some emotional issues. But to me, it wasn't nearly as good as its predecessor.
Why I picked it up: Because I loved Evvie so damn much.
Laurie is a nature journalist living in Seattle. When her beloved great aunt Dot dies, leaving behind a house crammed with souvenirs, photos and other possessions, Laurie travels back to her hometown in Maine to help clear out the house. Fresh off a broken engagement, Laurie is steadfast in her desire to remain single and independent, but that doesn't stop her from spending time with her high school boyfriend Nick (conveniently now divorced) while she's in town. As she works through sorting and disposing of her aunt's decades of memories, Laurie also examines why she is so opposed to the idea of a relationship with Nick.
I really wish I had loved this book. Unfortunately, it fell flat for me. There just wasn't enough edge or conflict. Holmes threw the distance/commitment issues in to give Laurie and Nick some roadblocks in an otherwise perfect relationship. The book's only drama centers around a duck decoy that Laurie finds in her aunt's house and becomes disproportionately attached to and curious about. The origins of the duck decoy – and its value – lead to a mildly interesting caper/mystery when the duck falls into unscrupulous hands and Laurie has to try to get it back. Honestly, that's the book right there. I loved the element of sadness that permeated Evvie and gave it the soulful heft that made its payoff so sweet. I didn't feel any of that with Flying Solo. Instead, I found it repetitive and boring. I am so sorry to give it such a tepid review because I really had high hopes for it.
I probably would have DNFed if I weren't doing Flying Solo on audio. By the time I had invested a few hours into the audio, I wanted to finish it. It's narrated by the dependable Julia Whelan, though I think she was a mismatch for this book. Whelan's delivery is serious and usually a little angry, which was just not the tone for this light and not terribly hefty novel. Hearing her voice narrate the duck story made it seem even sillier.
Flying Solo was the 27th book of 2022.