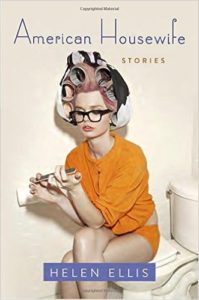 American Housewife by Helen Ellis is a pretty dark collection of stories about, yes, American housewives. Some are writers, some just stay home, but most of them are sort of disturbed, but in a funny, wry way.
There's one story about the wife of a bra fitter, who is so good at what he does that women come from great distances just to meet with him. The wife, who ironically has breast cancer, finds herself fending off women who fall for The Fitter when they see how he's transformed their bodies.
Another story is about a Manhattan book club that turns out to be a mechanism for older, infertile women to find surrogates among younger book club recruits.
Another is about a novelist whose second novel is sponsored by Tampax, a corporation that becomes more evil and manipulative by the page.
What connects these stories is the subversive undercurrent that courses through these seemingly acceptable lives. The evil Tampax, who takes corporate sponsorship to extremes. The string of dead doormen in a fancy New York City apartment, killed by the wife of the co-op board president. These poor women here are trapped by others' expectations and demands – the wife of The Fitter, the Tampax novelist, the co-op board wife – and are left fighting to held on to their men and their livelihoods. It's pretty dark. But through it all, Ellis is keenly observant and quite entertaining. Even when some of her stories got absurd, I found myself laughing throughout the book.
My favorite story is "Dumpster Diving With The Stars", about a rather obscure novelist who ends up on a reality competition show where celebrities compete to scoop up deals on antiques and collectibles across the country. It's very entertaining if you're a reality competition show fan.
There are a few very short chapters as well, most of which are compilations of lists and observations. My favorite is the translation of what Southern women say vs. what they mean.
American Housewife is a quick read, but it's funny and memorable. Not every story works, but most of them do.  And you have to love a writer who opens her book with this quote and mentions "Sixteen Candles" on the first page:

I listened to American Housewife on audio. It was narrated by four women: Kathleen McInerney, Lisa Cordileone, Rebecca Lowman and Dorothy Dillingham Blue. I recognize McInerney and Lowman from other audiobooks I've listened to, and I think Lowman was my favorite narrator here. She performed "Dumpster Diving With The Stars", and I loved her spare, unemotional delivery. Perfect for the absurdity inherent in the stories. The other narrators were strong too, especially the one with the perfect Southern accent.
Check out this interview with Ellis from The Frisky.