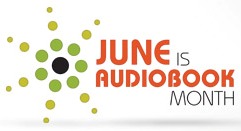 In honor of June is Audiobook Month (JIAM), I've decided to share a list of my favorite audiobooks. This was hard! There are a lot of good ones out there. If you haven't tried an audiobook before, here are a few you might want to try.
1. Three Junes by Julia Glass. What I said: "The narrator, John Keating, was nearly perfect. I loved his brogue and his Fenno was wonderful."
2. A Land More Kind Than Home by Wiley Cash. What I said: "The three performers -Nick Sullivan, Lorna Raver, and Mark Bramhall – were absolutely perfect; I felt like I was listening to a script reading. The voice of Clem, in particular, was superb. This may be the best audio production I've ever listened to."
3. Abide With Me by Elizabeth Strout. What I said: "The performer, Bernadette Dunne, had the accents down perfectly and really imbued the voices with personality and character. She brought Strout's words to life so convincingly that at times I felt as though the characters were in the room with me. This is one of the best audiobook narrations I've listened to, ever."
4. Major Pettigrew's Last Stand by Helen Simonson. What I said: "[T]he narration by Peter Altschuler is one of the best I've ever experienced. Great delivery and perfect accents. Mrs. Ali was the weak link, the errant thread of the Turkish rug. But the others were great."
5. A Good American by Alex George. What I said: "The audio is terrific. Great narrator – Gibson Frazier. In fact, I think it was the audio version that kept me interested – I am not sure I would have stuck with this book if I hadn't been listening to it."
6. Faith by Jennifer Haigh. What I said: "The narrator, Therese Plummer, has a perfect Boston accent, and she vividly brought Faith's characters, male and female, to life. The audiobook forced me to ingest this novel more slowly than if I had read it, prolonging the pleasure of experiencing the book."
7. State of Wonder by Ann Patchett: What I said: "Hope Davis is an excellent narrator. She conveys a range of voices perfectly – from Marina's terror brought on by drug-induced nightmares to the infallible tone of Dr. Swenson."
8. The Unnamed by Joshua Ferris. What I said: "I highly recommend the audio. It was narrated by Ferris, and he's a great reader. I love listening to authors read their own works – who understands the words better than they do? Who else knows exactly where the emphasis lands in a sentence, and the tone of voice a character should take when talking to someone else?"
9. The Abstinence Teacher by Tom Perrotta. What I said: "It didn't hurt that I listened to this book on audio narrated by the sublime Campbell Scott. I wouldn't complain if he narrated every single audiobook in the library. His deep voice, which verges on (but never reaches) flatness, was the perfect vehicle for Perrotta's understated sarcasm and jabs. I especially enjoyed Scott's narration of Pastor Dennis – just perfect."
And finally, the audiobook that got me into audiobooks…
10. Middlesex by Jeffrey Eugenides. What I said: "This book is narrated by Kristoffer Tabori, an accomplished actor, and I give him credit for embodying so many diverse voices throughout the 21 hours of Middlesex. His narration is fluid and vibrant, his voice highly capable of conveying the range from humor to desperation. To me, the weak link was his female voices, especially that of Cal's grandmother Desdemona, who bordered on caricature. But this is a minor complaint. There were times when I was tempted to read ahead in my print copy of Middlesex, but I developed a strong appreciation for and loyalty to Tabori as I was reading, and felt that it would be betraying him NOT to experience every word through his narration."
What are your favorite audiobooks? Please share them!