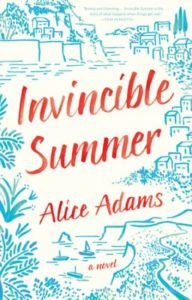 I am a sucker for four-college-friends-moving-into-adulthood books, and predictably fell for Alice Adams' debut novel Invincible Summer on vacation this summer.
Eva, Benedict, Sylvie and Lucien graduate from college in England in 1997 (Lucien is actually Sylvie's brother and never actually went to college) and go off in different directions on the path to becoming adults. Eva, who grew up with a socialist father, goes into banking; Sylvie flails around trying to be an artist; Benedict pursues graduate studies in physics; and Lucien basically becomes a DJ/drug dealer. Adams checks in on this quartet every year or so to see how they are faring and to report on the waxing and waning of their relationships with each other.
Invincible Summer is basically Singles in a novel, told over time. Things don't go as planned for any of these characters – relationships fail, children have health issues, stock markets collapse. But life goes on, and they ultimately find their way through the ups and the serious downs they never predicted in their early twenties, when they felt, yes, invincible. I liked how Adams weaved the characters' relationships in and out of these plot milestones too, dropping and picking up strands in concert with the ebbs and flows of the friendships.
Eva is by far the most richly drawn character, and Lucien by far the least, but that inequity didn't bother me.
I finished Invincible Summer over a week ago and it hasn't stayed with me as much as I'd have expected. It's definitely on the lighter side. But it was a great vacation read that I couldn't wait to get back to, and I am glad I stalked this book at BEA when I had no idea what it was about and in fact thought it was written by another Alice Adams.
If you liked One Day or The Interestings… read this one. If you liked Singles… read this one. Or if you're a sucker for the four-friends-plot too, then read this one. I bet you'll like it.