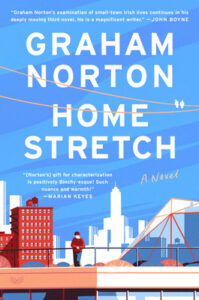 One of the categories in the 2022 Everyday I Write The Book Blog Reading Challenge is "Book Discovered In A Bookstore", which is intended to encourage browsing the stacks in a trusted bookstore and finding a previously unknown book. When I was in Corolla, North Carolina at the end of March, I paid a visit to my favorite indie, Island Bookstore, with this mission in mind. I discovered a book called Home Stretch by Graham Norton, which seemed appealing based on the dust jacket. (I had no idea, at the time, that Graham Norton is a famous talk show host in Ireland, nor that he has published two other novels.) I read it last month and was very pleasantly surprised: it's my third five star read of the year.
Why I picked it up: See above.
Home Stretch opens in the 80s in a small town in Ireland with a car crash involving six people in their late teens/early 20s. Three are killed – a bride and groom who were to be married the next day, and a bridesmaid – and three survive. One of the survivors, the driver of the car, is a boy named Connor. Guilt over the accident ultimately drives him to leave Ireland, a departure that devastates his family but sets him off on a journey toward a new life. Home Stretch follows Connor's life over the next few decades, but also revisits Connor's sister Ellen and what has happened back in their small town as its grieving residents try to get on with their lives. Ultimately, it's a book about honesty, authenticity, guilt and the weight of others' expectations.
I really liked this one! Norton is a great storyteller. I felt totally invested in Connor and Ellen and wanted things to work out for them. Their stories took some unexpected turns and there were even a few times when I gasped out loud. I loved how Norton writes – realistically, full of vivid detail, and with empathy for his characters. Home Stretch isn't a terribly literary novel, but it's a wholly satisfying read that I was sad to see come to an end. I enjoyed the settings – small town Ireland and New York City – as well as the supporting cast around Connor and Ellen. This was a five star read for me – it is a perfect contemporary character-driven family saga.
I listened to Home Stretch on audio. It is narrated by the author, Graham Norton. He did a great job with it, especially with the accents. Other than a few female falsettos, his narration really enhanced the storytelling.
Home Stretch was the 36th book of 2022 and satisfies the Book I Discovered In A Bookstore and Book Set Outside The U.S. categories of the 2022 EDIWTB Reading Challenge.