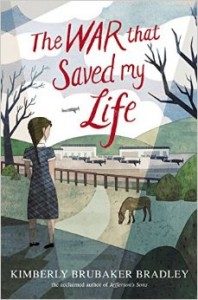 Our January mother-daughter book club read was The War That Saved My Life by Kimberly Brubaker Bradley. It's an old-fashioned type of book about England during WWII that was published in 2015 and written by an American author who lives in Tennessee and .
The War That Saved My Life is about Ada, a girl born with a clubfoot to a monster of a mother in London. Because she cannot walk due to her deformed foot, her mother has kept her inside a small flat for her whole life, never providing her with crutches or even a pair of shoes. Ada spends her life watching kids out her window and waiting for her little brother Jamie to arrive home from school. Her mother is unspeakably cruel, depriving her of affection, food and stimulation, and occasionally locking her in a roach-infested cabinet under the sink for small transgressions.
When Jamie is given the opportunity to go to Kent in the English countryside to wait out the war, his mother decides to send him but keep Ada behind. Ada instead accompanies Jamie to the train and goes with him to Kent. They are passed over by all of the families who have agreed to take in evacuees, and end up at the home of Susan Smith, a single woman who keeps to herself. Under Susan's care, Ada learns to live.
After cleaning up the kids and feeding them proper amounts of food, Susan slowly starts building up Ada's confidence and teaching her about how to interact with the world. As the book progresses, their relationship deepens. Susan has her own demons – she has been ostracized by the town and disowned by her father, presumably because of her sexual preference – but she sees Ada for who she is: a bright girl who has been severely deprived through her life and who deserves respect and opportunity.
The tension ratchets up as the German bombs get closer to Kent and evacuated children begin returning to London. Will Ada and Jamie stay in Kent with Susan, or will their mom show up and lay claim to them?
I liked The War That Saved My Life a lot, as did the girls and moms in our book club. There was a lot to discuss about Ada and Jamie and how they responded to life with Susan. Were they likable? Sympathetic? Was there anything redeeming abut the mother? Would we have taken in evacuated children? How would we have responded to such a dramatic change in our lives?
I listened to half of The War That Saved My Life on audio and read the other half. I liked the narrator, who had a plucky British accent that made Ada seem perhaps a little happier than she really was. But it was a good production and I enjoyed the audio a lot. I needed to finish the book quickly so I chose to read the second half rather than listen to it.
Overall The War That Saved My Life was a good pick for book club and seemed to have been enjoyed by everyone. It's a good piece of historical fiction for the middle grade set.