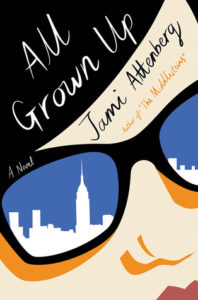 Jami Attenberg's latest novel, All Grown Up is about Andrea Bern, a woman in her early 40s who is childless and single. She had planned to be an artist, and still paints occasionally, but gave up in her 20s and now works in advertising and lives in Brooklyn.
Andrea is definitely messy – self-absorbed and immature, yet also funny and self-deprecating. She asserts that she wants neither a husband nor children, yet also laments her single status and complains about being lonely. She is close with her mother and brother, but when her brother and his wife have a daughter with severe health issues, she is incapable of providing any of them them the support they need to help live with their daughter's round-the-clock needs.
I enjoyed the structure of the book – the chapters jumped around chronologically, with each chapter named for a woman who had some impact on Andrea's life. Events that were explored in detail in one chapter were mentioned in passing on others, which I liked once I got used to it. I like Attenberg's writing, which, like in The Middlesteins, is wry and observant.
But in the end, All Grown Up, left me cold. Andrea routinely sabotaged herself and her relationships, and she was so rarely empathetic or supportive that I just didn't like her much. She could be generous, but only with money, rarely with her feelings.
All Grown Up was moderately entertaining while I read it, but I have not thought about it once in the week since I finished it. Just not much there.