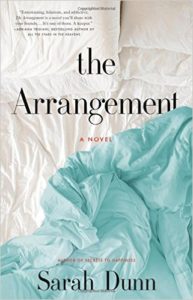 A new novel out from Sarah Dunn is always reason to celebrate, and I was definitely excited to read The Arrangement after really enjoying her earlier novels The Big Love and Secrets to Happiness (click to read my reviews). The Arrangement has an intriguing premise: a suburban couple, Lucy and Owen, with an autistic 5 year-old and a happy if boring marriage, decide to liven things up by opening their marriage for 6 months. They agree to certain ground rules: no questions asked, no one they know, and no falling in love. What can go wrong?
The Arrangement is a smart, funny and well-written book. Dunn has a good sense of humor and an even better sense of what it's like to be a suburban middle-aged parent, especially to a special needs child (she has one herself). Beekman, NY, where Lucy and Owen live, appears to be an idyllic destination for parents reluctantly leaving Brooklyn, but it's a small town with its own share of tensions and pressures. And Lucy and Owen's marriage, while not perfect, is a familiar one. They are pretty exhausted, with little emotional time for each other.
I loved this passage about how Lucy has given up certain (optional?) aspects of her life over time: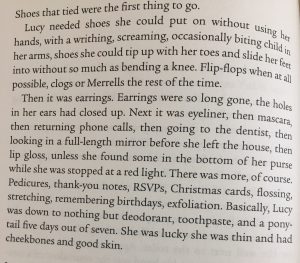 Perfect.
Dunn's characters are memorable, from the eccentric billionaire in Beekman on his third wife, to the partners Lucy and Owen decide to spend "the arrangement" with, to the town's transgender kindergarten teacher. Dunn is insightful and empathetic, and I laughed out loud and nodded in recognition often while reading The Arrangement.
Sarah Dunn is three for three, in my opinion. When is her next book coming out?