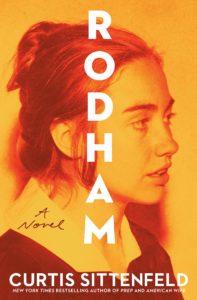 Hillary Rodham Clinton is one of the most scrutinized, analyzed and discussed public figures in the world. Most of us are pretty familiar with her narrative at this point, from her Yale Law School days through her years in Arkansas when Bill Clinton was governor, her 8 years as First Lady, and then her post-White House career as senator from New York, Secretary of State, and candidate for U.S. President. But what if that narrative had taken a very different turn? What if Hillary had turned down Bill's multiple marriage proposals? How would her career have turned out? Would she have run for office, and would she have won? This is the subject of Curtis Sittenfeld's latest novel, Rodham.
Why I picked it up: I am a big fan of both women – Sittenfeld and Clinton – so this was a no-brainer for me. (I am also a Sittenfeld completist.)
[A confession upfront: I love Hillary. I voted for her, I wish (hourly) that she were our president. My husband worked for her at the State Department, so I've met her and know (through him) what she was like to work for. I also feel a little protective of her, so I approached Rodham with a little trepidation too.]
I liked Rodham and found it engaging and thought-provoking. Sittenfeld is a master storyteller, and she doesn't disappoint in this latest book. There's a lot to unpack here – Hillary's relationship with Bill, the origins of her public service career, the misogyny she has faced from the beginning of her professional life. The book is very sympathetic to Hillary, offering her perspective on some of the statements that have dogged her for years (remember the "home baking cookies" comment?) and expressing her own confusion over why she often provoked such enmity. And of course, it's interesting to think about the ways in which our history would have changed if Hillary hadn't taken the path she had: the elections she would have fun for, the offices she could have held, the presidencies (ahem!) she could have prevented. I had to remind myself often of Sittenfeld's timeline, replacing history in my mind with this new fact pattern.
I did have a few issues with Rodham First, I am not sure Sittenfeld sufficiently made the case for why Hillary was so polarizing beyond just being an accomplished, smart woman. Without Whitewater, her failed health care reform and the scandal of Bill's presidency, the foundation for why she was so hated by the time she ran for president was a little shaky. Second, I think Bill gets a raw deal here. (This Bill is pretty awful.) I mean, the man has flaws, but there were some great things about Bill Clinton. And finally, Trump plays a role here too – not the one he's in now, thank god, but one that felt inconsistent with the rest of the book. (Sittenfeld does portray him pretty accurately, though.)
Overall, Rodham was a very good read. It kept my attention and I've been thinking about it a lot since I finished it. I will read anything Sittenfeld writes, but I did seek this one out and was particularly excited to read it. It's well-researched and never boring. And it will certainly get you riled up by the end, angry at the way women are treated in politics, the double standards and the extra hoops women jump through that men don't even think about.
I listened to Rodham on audio and the narrator Carrington MacDuffie did an excellent job. She sounded kind of like Hillary – articulate, precise and rational. This was a take-the-phone-in-the-shower listen for me.
Rodham was Book #22 of 2020.