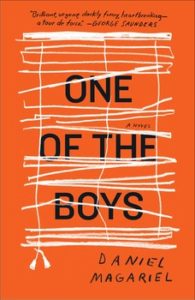 One Of The Boys by Daniel Magariel is a bleak, dark book. It's about two boys who move with their father from Kansas to New Mexico to "escape" their mother, whom their father has left. The father paints the mother to be their enemy and insists that the three of them are now a pack, and that they must each be loyal: "one of the boys". He says they will have a fresh start in New Mexico, where their father rents an apartment and works as a financial advisor from home on "the big account".
The boys – one in high school and one in middle school – try to be positive and hopeful about their futures. But slowly they start to notice things about their father – how secretive he is, his erratic behavior, the people who come and go at strange hours. It quickly becomes apparent that the father is an addict. He becomes less reliable and engaged with their lives, leaving them to parent themselves and him at the same time. He abuses both boys – psychologically, emotionally and physically – and pits them against each other to weaken their bond. Meanwhile, they try to navigate their father's moods and stay on his good side, while taking care of themselves and going to school.
One Of The Boys will break your heart. These poor defenseless kids, left with an addict of a father, try desperately to find a way out, only to be boxed in both physically and emotionally. It's a harrowing, stressful read, without much of a resolution. Magariel is a very good writer – realistic and moving, while accurately capturing the perspective of a middle school narrator. One Of The Boys is a quick but powerful read. I know it sounds really bleak, but I am so glad I read it.