Sometimes you just need a little popcorn.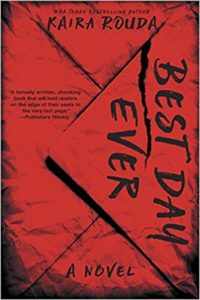 I was traveling last week and wanted a book that I could get into and finish quickly, and Best Day Ever by Kaira Rouda fit the bill. It's a psychological thriller – the kind with an unreliable male narrator who grows increasingly dangerous (you've read that one before, no?) – that grabs you from the start and sucks you in but ultimately leaves you kind of empty.
Paul and Mia have been married for several years, with two young sons and a beautiful suburban home. Paul has planned a perfect getaway weekend for them at their lake house outside Columbus. He has thought of every detail, from the playlist on the ride up to the romantic dinner they will have at a new restaurant – even the brandy he'll pour her before they go out. But as Paul describes his marriage to Mia, you start to realize that he is not what he seems. He's controlling, demeaning, duplicitous, scheming, and a cheater. But how much does Mia realize, and is this really going to be the best day ever for her?
There are twists along the way, and Rouda does a nice job of racheting up the tension as the date proceeds (each chapter covers another half hour or so of the getaway). I was hooked on the story and the pages flew by until I finished.
Again, this one is popcorn. It was entertaining and fast-paced. Just don't expect a rich read that will stay with you for a long time (though Paul is actually pretty memorable as a villain, made even more so because you get into his head and see just how dysfunctional he is).