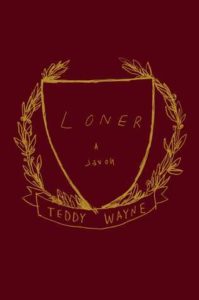 David Federman, the protagonist of Teddy Wayne's novel, Loner, is a quiet, nondescript Jewish boy from New Jersey  starting his freshman year at Harvard. He's eager to reinvent himself at his new school, where he hopes he'll make friends, especially with the more popular, well-liked kids. During his first night of orientation, he meets Veronica Wells, a beautiful blonde, wealthy New Yorker whom he immediately falls for. His infatuation with Veronica takes over his life, as he picks classes based on which ones she is taking, propels his friendship with Veronica's roommate Sara into a romantic relationship so that he can be near her, and generally inserts himself into her life whenever possible.
Loner is a darkly entertaining book. David is observant and funny, but deeply unlikeable. His singularity of purpose – the doomed pursuit of Veronica – pushes him from nerdy and awkward to deranged and highly manipulative. The book is less of a sendup of Harvard  – though that's in there too – but an exploration of the mind of a sociopathic young man whose obsession turns ugly. The end is disturbing, to be sure, but I have to say that I enjoyed this book anyway. It's a glimpse into the mind of a deluded, dangerous person that's funny and suspenseful at the same time. And I also liked that the icy Veronica had a few tricks up her sleeve as well.
Loner was a quick and satisfying read, but be warned that it's also unsettling and that the humor can get pretty dark.