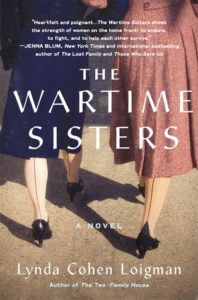 Lynda Cohen Loigman's debut novel The Two Family House (reviewed here) is about two Jewish families connected by brothers who live above and below in each other in a house in Brooklyn in the 40s. Her new novel, The Wartime Sisters is also set in the 40s and focuses on two sisters, Ruth and Millie, who grew up in Brooklyn but move to Springfield, MA during the early days of WWII to work in the armory there.
Ruth and Millie have had a strained relationship since childhood. Ruth, resentful of Millie's beauty and the attention she received from their parents and suitors, has grown brittle and bitter, despite her loving marriage to an army officer and twin daughters. She moves happily to Springfield to get out of her younger sister's shadow, eager to start a new life where she wasn't compared to Millie. Meanwhile, Millie is courted by Lenny, a rough, working-class man who her parents don't approve of, and despite their efforts to keep them apart, she agrees to marry him soon after they die suddenly in a car accident.
When The Wartime Sisters opens, Millie has followed Ruth to Springfield, arriving on her doorstep with her young son and bearing the news that Lenny is gone. Ruth takes her in and Millie gets a job putting rifle triggers together at the armory. The sisters negotiate an uneasy truce in Springfield, but as the story unfolds, Loigman reveals that each sister is hiding secrets from the other, preventing them from truly understanding and accepting each other.
Once again, Loigman has vividly recreated a very specific time and place, this time through painstaking research into the community that built up around the Springfield Armory. I enjoyed the details of life in Springfield – the social strata determined by the roles on the base, the role of women as "soldiers of production" necessitated by the exodus of men into the army – and I admire Loigman's creation of her fictional world within the physical structure of the Armory.
Loigman teases out Millie and Ruth's complicated relationship, exploring how years of resentment and miscommunication have ossified into emotional estrangement. Circumstances ultimately force Millie to reveal what she has been hiding, forcing Ruth's own reckoning with the past and the role she herself played in leading to Millie's dire situation. Loigman shifts perspective throughout the book and goes back and forth in time to paint a full picture of the sisters' past and the new lives they are living as adults.
Like The Two-Family House, The Wartime Sisters looks at how the grooves forged in childhood by parents and siblings only deepen with time and can determine the course of adulthood until they are addressed and softened. In The Wartime Sisters, Loigman has created another well-written story with memorable characters and a compelling historical setting.