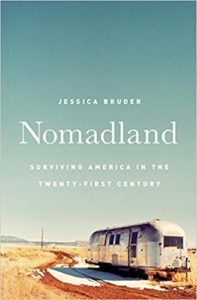 Nomadland by Jessica Bruder looks at a relatively invisible American demographic: a mobile workforce, made up mostly of people in their 60s and 70s, who live out of vans and cars and follow low-wage seasonal employment opportunities around the country because they can't afford homes. I wasn't aware of this demographic before I read about Nomadland, and once I read the book's synopsis I knew I wanted to get hold of it.
In Nomadland, Bruder looks a range of employers and job opportunities that have attracted nomad workers, including: Amazon, who hires hundreds of workers ("Camper Force") at warehouses across the country to handle holiday season order fulfillment; national parks who hire "camp hosts" to staff campgrounds over the summer; amusement parks; the sugar beet industry, who needs seasonal harvesters; and more. These employers hire nomad workers who descend on their locations, setting up temporary mobile home communities while the work is still paying. When the work dries up, the vans pull out and the communities disappear. The work is usually tedious, physically taxing and low paying, but the workers come anyway. They need the money.
In addition to looking at the jobs, Bruder spends a lot of time on the nomads' way of life. Where do they shower? Park? How do they get mail?  Bruder did an incredible amount of research for Nomadland, including getting her own van and spending time on the road with her subjects. She even took a job at Amazon as part of Camper Force to truly understand the experience of nomadic work. The result is a very thorough and empathetic view of the challenges of this type of lifestyle.
Bruder focused on one nomad – a woman named Linda – throughout Nomadland to lend the book a narrative structure. Linda went from a national park in California to a casino to an Amazon warehouse in search of income. The depiction of Linda's story really captures the dichotomy of the nomadic lifestyle. On one hand, Linda enjoys an untethered existence, free to come and go as she wants, while still enjoying the benefits of a vibrant community of friends. Without rent to pay, she is unshackled from some of the financial stress that her peers share. Yes, she lives on a tight budget, heading to Mexico for cheap medical treatment and postponing needed repairs on her van, but she is debt-free and able to support herself. But Linda's story is emblematic of so many Americans whose fortunes were decimated by the 2008 financial crisis. They lost jobs, savings, retirement plans, and the comfort of knowing that their needs would be covered into old age. Faced with financial uncertainty, they take to the road because they tave no other options. And while living on the road may sound romantic, it's also hard in many, many ways.
Nomadland was a fascinating book. There were a few places where Bruder veered off course a little and I found myself losing focus. The chapters focusing on Linda were the easiest to follow, but some of the other nomads' stories tended to ramble a little. That said, I still found this to be an interesting and disturbing read. Of the many casualties of the financial crisis, these older Americans without good options are among the saddest.
I listened to Nomadland on audio. It was narrated by my friend Karen White, who gave it just the gravity it needed. Her precise delivery, verging on alarmed, conveyed the substance and urgency of the topic, yet she handled the book's wry and humorous moments just as well.