Ugh – over 2 weeks since my last post. I'm here, I'm reading – I just have a lot going on and haven't been able to keep up the same pace as the first 2 months of 2018. But I have a lot of good books coming up on my TBR and hope to pick up the speed a little.
I did finish The Bookseller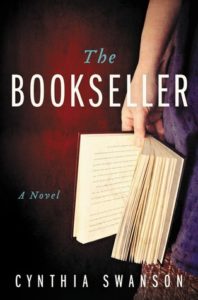 by Cynthia Swanson last week. The Bookseller is a Sliding Doors-esque novel in which a single woman in her thirties, Kitty Miller, wakes up day from a strange dream in which she is married with three kids. In the dream, she lives in a suburban part of Denver in the 60s, whereas in her real life, she lives downtown and runs a bookstore with her best friend. She finds the dream intriguing – who is this handsome architect she has married? – and in the subsequent weeks, she finds herself returning more and more frequently to the alternative dreamscape in which she has a different identity. Ultimately, the reader finds herself questioning which version of Kitty is real, and which is imagined?
I don't want to give away too much of the story, because the fun of The Bookseller is figuring out how the two lives unfold and affect each other. The dual tracks of Kitty's life turn out to be zero-sum; very little that exists in one life also exists in the other. And this is intentional, setting up a painful contrast between the two and ultimately a difficult choice as Kitty has to commit to one or the other.
The Bookseller of course requires some suspension of disbelief, but I wouldn't go so far as to call it magical realism. I enjoyed Swanson's storytelling and the depiction of life as a single woman a half-century ago in Denver. Kitty is a bit simplistic at times – Swanson's depiction of parenting and marriage was cliched –  but I liked this story, which is on the lighter story and provided a more upbeat antidote to the sadder books I read right before The Bookseller.
I mostly listened to The Bookseller on audio. Narration by Kathe Mazur was fine and I found myself engrossed in the story and eager to get back to it.
If you want a lighter read and are willing to tolerate some ambiguity, give The Bookseller a try. It's not terribly deep but serves as a great palate-cleanser.