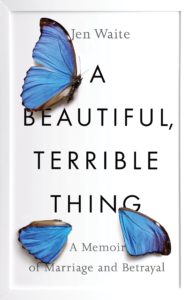 A few weeks ago, I said that I was done reading popcorn thrillers about sociopathic husbands. So what did I do next? Picked up a memoir about a sociopathic husband. SMH.
A Beautiful, Terrible Thing is the story of the demise of Jen Waite's marriage to a charming Argentinian man named Marco. She married him after a frenzied period of dating and enjoyed 5 blissful years with him before everything fell apart. A few weeks after she gave birth to their daughter Louisa, she found a strange email on his computer that suggested that he was seeing someone else. He denied it repeatedly, but it came out over the next few months that Marco was cheating on Jen with another woman (and that there had been others).
The cheating was bad enough, but hardest for Jen was Marco's coldness and lack of empathy. He claimed to be "sick" and "numb" and "unable to feel" anything about what he had done. After a lot of internet research and therapy, though, she concluded that he was a sociopath who had tricked her for years into believing that he loved her, but who cast her off when he decided he was ready to move on due to his own need for attention and adoration.
I guess I'm glad I read A Beautiful, Terrible Thing… ??? In the end, yes, Marco was awful and Jen's pain was very intense, but did I need to read a whole book about it? I was more interested in the analysis of sociopaths and the identification of their patterns than the timeline of the revelations about Marco's infidelity. Waite is a good writer, so it's not like the book wasn't written well. It's just a somewhat familiar story and in the end I didn't really grow that much for having read it. There is a lot of talk about not giving too much of yourself to another person or being so invested in their happiness, but if Marco hadn't been a sociopathic monster, I don't think Waite would be advising against either. (That's what marriage is, right?)
You probably know by now whether this book is for you or not.