When The Four by Scott Galloway came out last year, I knew I wanted to read it. I work in technology, so this book about Amazon, Apple, Facebook and Google was right up my alley. The company I work for, Homesnap, works closely with Facebook, Google and Apple, and Amazon is, of course, Amazon, so I was interested to hear what Galloway, an NYU business school professor, had to say.
The Four goes through each of the Four Horsemen, as he calls them, analyzing how they got so big and powerful, their respective strengths and weaknesses, and what they have in common. He also explains how they are both dependent on and competitive with each other:
Google signaled the end of the brand era… hurting Apple, who also finds itself competing with Amazon in music and film. Amazon is Google's largest customer, but it's also threatening Google in search[]. Apple and Amazon are running, full speed, into each other in front of us, on our TV screens and phones, as Google fights Apple to be the operating system of the product that defines our age, the smartphone.
Galloway explains why the Four Horsemen have so quickly outperformed the traditional brands and companies – across many sectors – that were the bedrock of the American economy for decades before Facebook came along. He also identifies the few companies with the potential – but not necessarily the likelihood – of becoming the Fifth Horseman. (Think Uber, Tesla, Microsoft, Walmart).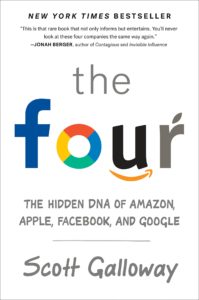 Even though The Four came out recently – October 2017 – it already feels somewhat outdated. Things have changed for Facebook, for sure, in the intervening months, and Amazon seems to have gained strength in a number of areas even in that short time. (Galloway updates The Four in this 2017 video; I'd like to know what he'd say today.) Amazon really emerges as the company to fear here. Trying to beat them is futile.
If you're an intense b-school type who lives and dies by numbers, this book might be too light for you. If you like funny, slightly irreverent books about business and technology, this one is for you! I really enjoyed it and learned a lot in the process. If you're interested in working for one of the Horsemen, then this is required reading.
I listened to The Four on audio. The format – short subsections – lends itself well to audio and I had no trouble staying focused. The narrator, Jonathan Todd Ross, was funny and engaging, faithful to Galloway's tone throughout the book. If you like audio non-fiction, this is a good one to add to your player.