I am on a non-fiction tear! So unlike me.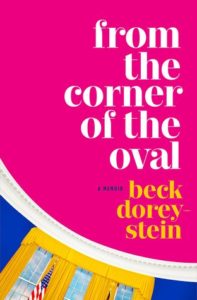 From The Corner Of The Oval by Beck Dorey-Stein is the author's memoir about her 6 years serving as a presidential stenographer under President Obama. This is a good book for people who like dishy behind-the-scenes Washington insider perspectives, though be forewarned: it's pretty light and spends a lot of time on her social life.
In 2012, Dorey-Stein answered a Craigslist ad looking for a stenographer at a law firm at a time when she was jobless and unrooted, working a bunch of part time gigs. She missed the first interview but showed up for the second, and found out later that the job was actually working for POTUS, not for a law firm. From there she embarked on a whirlwind term-and-a-half of recording and transcribing Obama's speeches and interviews, a job that took her all over the country and the world on Air Force One and cemented friendships with staffers in- and outside the White House.
Dorey-Stein is funny, self-deprecating and observant. I really enjoyed reliving the Obama days (sigh) through her perspective, especially hearing about the days that stood out to her, for good or bad (Sandy Hook and other mass shootings; Election Night 2014; meetings with world leaders; travel to international sites like Petra). In From The Corner Of The Oval, readers get a lot of glimpses of Obama, learning that he is competitive, funny and patient, yet also sometimes testy after long days of dealing with reporters. It's also fun to get a glimpse inside the White House, at the egos and personalities that flank the President, often unnoticed by the public.
I would have liked more analysis of the Obama presidency, such as why gun reform always failed or more about Obamacare and its tortured rollout. Maybe Dorey-Stein stuck to what's publicly available for confidentiality reasons? Either way, I would have appreciated a deeper treatment of the issues that defined the Obama terms.
The political stuff comes with an almost equal dose of Dorey-Stein's social life, including an on-again, off-again (but mostly on-again) illicit relationship with an older White House staffer with a girlfriend. The guy is basically an a-hole, but she's completely into him and ignores the signs – again, and again, and again – that he's not looking for something serious with her. There's lots of drinking and "do I have any friends?" and "wow, these guys really like me" and "why don't I have any confidence?"- nothing unusual for a memoir of one's late 20s but a stark contrast to generally more substantive political chapters.
That said, I really liked From The Corner Of The Oval and looked forward to listening to it each time I got in the car. I got caught up in Dorey-Stein's rollercoaster social life. I gladly took in the Obama memories and appreciated her dedication to and love for her former boss – merited and deserved. And I listened with horror to her epilogue about her short stint in the Trump administration (she stayed on for two months in January 2017), which couldn't have differed more from the six preceding years.
The audio for From The Corner Of The Oval is narrated by Dorey-Stein, and I can't really imagine anyone else doing it. She's not the most polished narrator, but this is her story, and it all felt even more personal coming from her voice. I was always eager to turn this audio back on (the sign of a good audiobook is when I play it in the shower, which I did here) and it went by pretty quickly.
From The Corner Of The Oval satisfies the memoir requirement for the 2019 EDIWTB Reading Challenge.