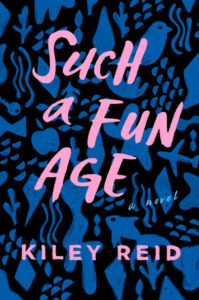 I am on vacation, trying to get in the last reviews of 2019, so this will be short. Such A Fun Age by Kiley Reid is a novel about two women: Alix, a white mom of two and motivational speaker/writer who has recently moved from NYC to Philly, and Emira, her African-American nanny. Late one night, Alix calls Emira to ask if she take her three year-old daughter Briar out of the house because it has been egged and they need to call the police. Emira comes to get Briar and they head to a nearby market that is open late, and while there she is detained by a security guard who questions why she is there with a white child and whether she has taken Briar without permission. This racist incident sets the book in motion.
Alix has a weird fascination with Emira that borders on an obsession. She wants to get to know Emira better and help develop in her the qualities she has built a career on encouraging in other young women, yet she also fears Emira will quit and is downright clingy with her. Emira, meanwhile, is puzzled by her boss' new intensity of attention and is herself trying to become an adult with her own health insurance and career goals. When Emira's new boyfriend turns out to be someone from Alix's past, things get more complicated, quickly, as the two women navigate some
There is a lot to Such A Fun Age – Reid explores issues of race, privilege, motherhood and professional success and identity through relatable characters and authentic dialogue and situations. Alix, while well-intentioned, is clumsy and clueless, and watching her flail through her relationship with Emira can be funny, if cringey. Emira's perspective gives the book its depth and heft. It is an easy, quick read with more going on than appears on the surface.
Such A Fun Age is a buzzy book that is going to get a lot of attention, soon.
I mostly listened to Such A Fun Age on audio. It was narrated by Nicole Lewis, who did a good job with a range of voices (including Briar's). My only quibble is that Emira's coming to terms with what she wants from her life is a big part of the book, but Lewis made Emira sound more aloof and immature than she came across in print. I needed to have confidence in Emira's judgment and personal growth, and I had a hard time doing that with the audio version, where she seemed indifferent to everything.