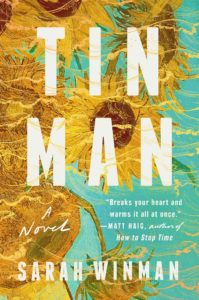 Tin Man by Sarah Winman is a quiet novel about three friends – Ellis, Michael and Annie – and the legacy of their complicated friendship. When Tin Man opens, Ellis is a widower living a lonely, isolated life in his town in England. It's clear that Michael and Annie – now dead – formed with Ellis a very tight threesome, made complicated by the fact that Ellis and Michael were once more than just friends. As the book goes on, Winman teases out how Michael's relationship with Ellis and Annie waxed and waned over the years, and what eventually happened to Michael and Annie. The first half of the book is set in the present day and told through Ellis' perspective, and the second shifts to Michael and tracks where he was during the times he was out of Ellis' and Annie's lives.
This is a sad book! Ellis' grief is enormous – in his relatively short life, he lost his mother, his wife and his best friend – and he is simply lost at sea, with almost nothing tethering him to life. The discovery of a box of Michael's belongings in his father's attic finally gives him insight into Michael's thoughts and actions, and ultimately releases him to try living again.
Tin Man is a tough book to review. It sounds like not a lot happens, right? And it is a short and straightforward read. But it's achingly lonely and sad, and it makes you want to reach out and give each character a long hug. Winman's writing is eloquent – spare but also powerful, with little details that pack a punch.
I listened to Tin Man on audio, which I don't recommend. Narration – by the author – was fine, though Winman has a relatively strong British accent that I had to get used to. I don't recommend the audio because the book has short chapters that jump around in time quite a bit, and it was a little hard to follow on audio. I usually have the print copy along with the audio, but this time I didn't and I missed it. I even ducked into a bookstore once just to orient myself with the print copy!
Tin Man was a recommendation by a number of reviewers I follow, and I am glad I read it. This simple yet profound story will stay with me for a while.