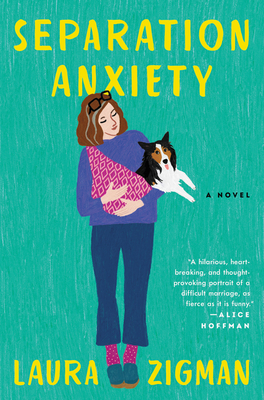 In Laura Zigman's new novel Separation Anxiety, 50-year old Judy has nailed the trifecta of disappointment: her marriage is failing, her writing career is stalled, and her teenage son won't talk to her anymore. She's completely adrift in a bewildering stage of life, when "life eventually takes away everyone and everything we love and leaves us bereft". Insecure and anxious, Judy turns to the one creature in her house she can count on for affection: her dog. She randomly puts the dog in a never-used baby sling stashed away in her basement and becomes immediately dependent on the dog's physical presence to keep her calm, a move that only further alienates her family and raises eyebrows at her son's school.
Why I picked it up: I read a number of Laura Zigman's books (Her, Animal Husbandry) a long time ago, pre-blogging, and loved them. I was excited by a new Zigman novel and intrigued by her take on middle age.
Zigman's books are funny and wry and observant, and Separation Anxiety is no exception. But there is a depressing stream that runs throughout the book, making it melancholy and ultimately less hopeful than her earlier works. Judy makes a number of questionable decisions, particularly where her estranged husband is concerned, and while I often nodded in recognition throughout the book, in the end I didn't connect with Judy as much as I'd hoped. So while I liked Zigman's lampooning of Montessori schools and meal kits and wellness websites, the darker side of Separation Anxiety was harder to get through.
Perhaps it's the time we are in now. I find it harder than usual to be sympathetic to characters simply going through the challenges of new life stages, given what's going on around us. Maybe if I had read Separation Anxiety a few weeks earlier, I would have felt differently. But now, as our collective anxiety has been raised by a real and very dangerous threat, Judy's loneliness and lack of professional clarity seem almost old-fashioned. (How has the world changed so quickly?)
Separation Anxiety was Book #14 of 2020.