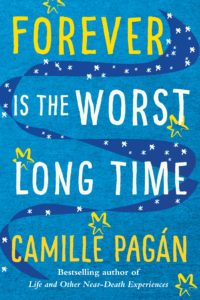 Forever Is The Worst Long Time by Camille Pagán is a bittersweet story about the unexpected paths that life can take – and the adjustments we make to accommodate them. The book centers on a love triangle: in his mid 20s, James Hernandez travels from Michigan to NY to meet his best friend Rob's new girlfriend, Lou. Unfortunately for him, he falls in love with her, kicking off a frustrating decade of longing and stasis in the rest of his life. An aspiring author, he can't commit to a book, and, in his romantic life, he shies from longterm commitment as well. When Rob and Lou hit a rough patch in their marriage, James find himself with an opportunity to act, finally, on his feelings – a reckless decision that has serious ramifications for all three.
I was expecting a light read when I picked up Forever Is The Worst Long Time, and it started out that way. But as the book progressed and the characters got older, the book got more serious. I don't want to give away too much in this review, but I found this book to be moving and quite memorable. There are a lot of relationships to explore here – friendships, parents and children, and couples – and Pagán skillfully conveys how they evolve and mature over time.
I can only find one thing to complain about: I didn't find Lou as compelling as I needed her to be to be the convincing center of this long triangle. She was sort of opaque, with her inner feelings a mystery through a lot of the book. I wanted to understand her better – or at least understand why she deserved to be the object of Jim's love for so long.
I listened to Forever Is The Worst Long Time on audio until I chose to finish it off in print. The narrator, Timothy Andres Pabon, was an excellent choice for James, who narrates the book. His depiction of James as steady, understated and quiet was spot on. (Unfortunately, like many male narrators, his female voices were not good.)
Forever Is The Worst Long Time was a pleasant surprise for me. I'll be looking into other books by Pagán.