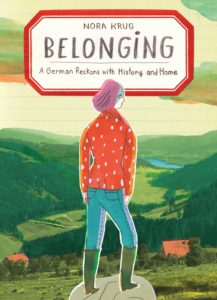 Belonging: A German Reckons With History And Home by Nora Krug falls into a new book category for me: graphic memoir. The author is a woman in her thirties who was born in Germany long after World War II, and Belonging is her quest to understand the role her family played in Nazi Germany and the Holocaust.
Nora Krug grew up in the south of Germany in a town that housed an American air base after WWII. Throughout her childhood, the Holocaust was not discussed or addressed by her family or friends. She recalls a strong feeling of shame about being German, despite having only a vague understanding of what had happened in her own country. She moved to America as a young adult, but remained both homesick for and intensely curious about her home country and her own family tree. She decided to return to Germany to trace her predecessors on both her mother's and her father's sides to learn what responsibility they had in the killing of Jews.
There are two elements to Belonging: the research and storytelling, and then the unbelievable visuals that go with them. Krug spent years tracking down her cousins and aunts – estranged on both sides of her family tree – to learn more about her grandfathers and a great-uncle who died in Italy fighting for Germany. Krug, now married to a Jewish man, seeks any evidence she can find that these men were not Nazi supporters, and evem that they had worked to help Jews survive during the Holocaust. She places this quest in the larger context of exploring how Germany as a country dealt with its own responsibility for what happened, and how that sense of responsibility has changed from generation to generation.
Belonging is also a love letter to Germany, one that Krug had clearly suppressed for a long time. She singles out certain objects from her homeland – a special kind of bandaid, a hot water bottle, the forest – and perhaps for the first time, publicly expresses how much these mean to her. I confess that, as an American Jew, I have had little curiosity about German, nor any desire to visit. By showing me Germany through Krug's eyes, Belonging softened my views and at least piqued my interest.
What's most compelling about Belonging, though, is the graphic part of the graphic memoir. This is a gorgeous book. It is hand lettered in a clear, consistent type (across 288 pages), interspersed with photographs, drawings, memorabilia, letters, maps and clippings. Krug scoured flea markets and eBay for photos and letters from the time periods she wrote about, so when she didn't have artifacts from her own family, she borrowed those of others'. What a labor of love this book must have been. I tried to appreciate every page, thinking about how she chose the content she did and how it affected the reading experience. I am not well-versed in graphic novels or memoirs, but I was extremely impressed with Belonging. It reminded me of The War Bride's Scrapbook by Caroline Preston (which I also loved), but in format only, as this one is non-fiction and intensely personal.
Belonging was a bit of a departure for me, but I am really glad I picked it up.