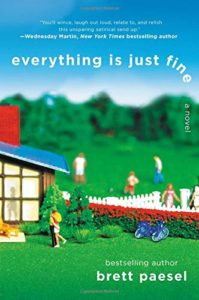 I chose Everything Is Just Fine by Brett Paesel for my humor book for the EDIWTB 2019 Reading Challenge. I wasn't really sure what to pick, and this is described as a "brilliant laugh-out-loud satire" so I figured it would fit the bill.
Everything Is Just Fine is about the private lives of a group of parents whose 11 year-old sons are on a Beverly Hills soccer team. The book is told in large part through emails among the parents as the fall soccer season gets underway. There's the hapless coach who writes emails with spelling mistakes and quotes trite movie lines, and who is also hiding his work misfortunes from his wife. There's the boozy divorcee who hits Reply All late at night when she's had too much wine. There are feuding exes who can't tolerate being at the same game, an eternally positive team mom who can't admit that her son may be on the spectrum, and a workaholic absentee mother whose nanny covers the games. These characters interact through email exchanges and occasional chapters told through third person narration as they all dig themselves into deeper holes at home.
I don't know that Everything Is Just Fine is 'laugh-out-loud' funny. There are definitely funny moments throughout, but it turns out to be a sadder and deeper book than it's billed as. These characters are having trouble connecting and communicating, and they have deep regrets about how they've lived their lives. There isn't a healthy marriage in the bunch. So while there is some voyeuristic fun in watching their lives implode and snickering at the email stereotypes, in the end it was all kind of depressing. This was supposed to be my funny book for the year!
In the end, Everything Is Just Fine was a quick and painless read, but it's not a book I can strongly recommend. It was like reality TV – easy to digest but not very filling.