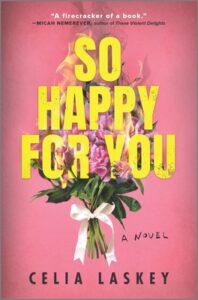 My first vacation read was Celia Laskey's novel So Happy For You, about a woman named Robin who is asked by her childhood best friend Ellie to be Ellie's maid of honor in her upcoming wedding. The book is set in a time in the not too distant future when heterosexual marriage is more desired than ever: unmarried women in their 30s are considered "rotten" and single women become increasingly desperate to find and keep a husband. Robin is highly critical of the Wedding Industrial Complex and is reluctant to be part of Ellie's weekend and all of the rituals it will require, not to mention the fact that she and Ellie have had a tumultuous friendship over the years. Yet she agrees, in large part to provide content for her feminist dissertation. But once the weekend is underway, strange things keep happening to her, leaving her to wonder whether her life might be in danger.
Why I picked it up: I thought the premise sounded good, though I had not focused on the "life in danger" subplot.
So Happy For You was just OK for me. There were some moments of brilliance: Laskey beautifully sends up heteronormative relationships – the cliched Facebook posts alone were almost worth the read – and Robin seems to see through all of the artifice around her while enjoying her own healthy and supportive relationship. I also enjoyed the backstory of the two women's friendship. But there were two things that doomed the book for me. First, Ellie and Robin are basically hateful people, so it was hard to root for either of them. Second, I am not really into gothic/horror and the book veers in that direction as it goes along. I spent much of the second half either rolling my eyes or just wanting to be done. So while I think the book had some really interesting things to say, it was pretty flawed and ultimately not that satisfying.
Goodreads reviews of So Happy For You are all over the map. Some people really liked its dystopian and satiric elements, others found it really funny and still others found it flat or unenjoyable. It's not surprising that this amalgamation of genres has provoked a wide range of responses. As for me, I am pretty firmly in the three-star camp.
So Happy For You was the 38th book of 2022