Where do I start with Trust Exercise by Susan Choi?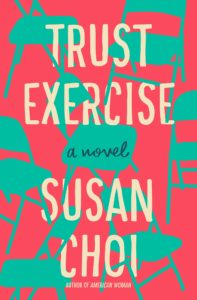 Trust Exercise is a buzzy book that came out this spring and has appeared all over the place ever since. Our book club read it for our July pick, and Nicole and I did a book club discussion of it for our upcoming podcast episode (airing this Thursday). Yet, even after all of those discussions, I am still having trouble deciding how I feel about it.
The first third of Trust Exercise centers around Sarah, a high school student at a performing arts school in an unnamed city in the 80s. As a freshman, she got romantically involved with David, another student, while both were under the tutelage of a larger-than-life drama teacher. Their relationship did not last past the summer, but it deeply affected Sarah, and David played a large role in her remaining high school years. Sarah's section is classic high school material, with shifting groups of friends, betrayals, insecurities and the realization that the people around you are mysteries. Plus, 80s!
I want to keep this a spoiler-free review, so all I'll say about the rest of the book is that there are shifts in perspective and narration that call into question the accuracy of Sarah's section. The reader is left, at the end, with a lot of questions. Who are the characters in Sarah's section, and why did she depict them that way? Do we all just see things through our own perspectives, or is there intentional manipulation of facts through storytelling driven by more nefarious motives? Who, as a reader, can we trust? (Hence the title.)
The members of my book club didn't particularly like Trust Exercise. To me, it's like a book you're assigned for English class where you admire the technical proficiency of the author but didn't find it much fun to read. I got through it because I had a podcast deadline to meet, not because I was particularly enjoying it. By the end, I had a lot of questions, and as my book club discussions have shown me, there is a lot I that didn't get. (Trust Exercise does make for a good discussion!)
So my verdict is: if you're looking for literary fiction that's going to challenge you and make you think, you might like this one, but be warned that you might be confused and not terribly fulfilled at the end. Don't read any more reviews, though – better to go in without much (more) predisposition.
Have you read Trust Exercise? Which camp did you fall in – did you admire it or did it drive you crazy?